The Ultimate Tribute Band To Paul McCartney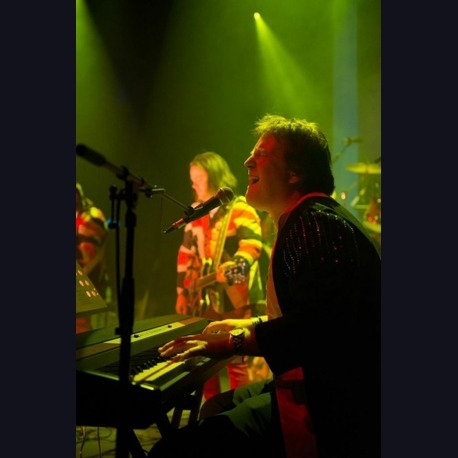 Jet
Got To Get You Into My Life
Lady Madonna
Wingsbanned are the UK's premier Paul McCartney Tribute Act covering all eras from Beatlemania to his latest "Out There" tour. The vast range of music produced by McCartney from ballards to screaming rockers, from pop masterpieces to classical works requires incredible versatility and Wingsbanned specialises in reproducing every sight and sound. The band is made up of five multi instrumentalists bringing many years experience between them, and all the authentic instruments to suit.

Formed in 2008, the band has played International Beatles Week, Liverpool several times culminating in last year's Royal Court Theatre "Paul McCartney at 75" celebration gig where the band was joined onstage by former Wings drummer Steve Holley and a brass section led by former Wing's sax player Howie Casey.

For the last seven years Wingsbanned has flown over to Louisville to attend the biggest Beatles related festival in the world. "Abbey Road On The River". Former Wing's members Denny Laine and Laurence Juber have also joined the band onstage at this event.

So if it's Beatles, wings or solo McCartney you are looking for this is the band for you.
Shortlist
---
Price Guide
For an approximate quote, please enter your postcode:
Song List
A Hard Day's Night
Admiral Halsey/uncle Albert
All My Loving
Back In The U.s.s.r
Ballroom Dancing
Band On The Run
Big Barn Bed
Bluebird
Call Me Back Again
Can't Buy Me Love
Coming Up
Day Tripper
Drive My Car
Eleanor Rigby
Flamin Pie
Good Day Sunshine
Got To Get You Into My Life
Heart Of The Country
Helen Wheels
Hello Goodbye
Hey Jude
Hi,hi,hi
I Saw Her Standing There
Jet
Juniors Farm
Lady Madonna
Let Em In
Let It Be
Let Me Roll It
Letting Go
Listen To What The Man Said
Live And Let Die
Long Tall Sally
Love Me Do
Magical Mystery Tour
Magneto And Titanium Man
Maybe I'm Amazed
Medicine Jar
Monkberry Moon Delight
Mrs Vandebilt
Mull Of Kintyre
My Love
New
Nineteen Hundred And Eighty Five
No More Lonely Night's
Only Mama Knows
Paperback Writer
Penny Lane
Rock Show
Sgt Pepper's Lonely Heart's Club Band
Silly Love Song's
Soily
Something
Spirit's Of Ancient Egypt
The End
Twist And Shout
Venus And Mar's
We Can Work It Out
Yesterday
And Many More!
Previous Clients
Cavern Club
Adelphi Hotel
Royal Court Theatre
Liverpool Philharmonic
Arotr Louisville Kentucky
Diamond Sutton In Ashfield
The Buff's South Wales
Hard Day's Night Hotel
Turk's Head Twickenham
Bedwas Sport's Bar
Roadhouse Birmingham
And Many More!
Testimonials
As you know I see and work with tribute bands all over the world, and I reckon WINGSBANNED are among the best! Always a joy to Work with.
- Tony Bramwell (Former CEO of Apple Records and life long friend of Paul McCartney)

We first seen the band live at the world's biggest Beatles festival AROTR in the USA. Since then we have been hooked. The Mrs and I try to follow the band as much as possible and seen them play the most famous club in the world the home of the Beatles the Cavern. The band are that good that we decided to book them to play our wedding and we was not disappointed. They are all great musicians and rocked it was like taking a step back in time. We cant wait to see them again this year back at AROTR.
- Luke and Anne Owens, Liverpool

Okay after seeing several of your shows at AROTR and at Beatles week, I Can't help but forgive the British for burning down the White House! These guys are FAB, almost better than the priginals if at all possible. Nice guys that are proffesional and humble on and off the stage.
- Donna Meeks, USA

To go to Paul McCartney Heaven, is to listen to Wingsbanned! You guys were awesome at AROTR2014. You totally outdid yourselves with "Ballroom Dancing"... off the doggone chain! You all rock!
- Cindi Shotwell, USA
Set Formats
Wingsbanned Offers:

1 x 60 Minute Set
Or
2 x 45 Minute Sets

Line Up:

Johnny Heywood/ Paul McCartney,Bass,Piano
Lee Herbert/ Drums
Shane Gould/Keyboards
Ian Herbert/Guitar,Bass
Gareth Davies/Lead Guitar