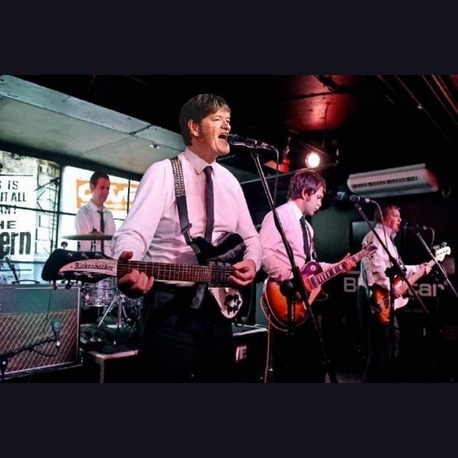 Ticket To Ride
Day Tripper
The Cavernites are a professional Four piece Beatles tribute band from Liverpool, who perform a tribute show that recreates the vibrant sounds of The Beatles touring years 1962 - 1966.

The Cavernites bring the sound and look of The Beatles back to life, and up to date musically taking the audience on a Magical Musical History Tour, through One of the greatest musical decades of all timeThe Cavernites take their stage sets from the actual ones used by The Beatles from their concert tours, performing classic Beatlemania hits as performed live by The Beatles from their early shows at Liverpool's The Cavern club from 1962 to Candlestick Park in San Francisco the venue of their last ever concert in 1966.

Even a few hits from their last live performance on the Apple rooftop in London in 1969 are included to bring their live music career to an end.The Cavernites perform completely live, performing a recreation of The Beatles live not copying their recorded works but presenting their on stage live performances, presenting an energetic, vibrant show, recreating the atmosphere and power of a live Beatles concert.

The Cavernites use original instruments from the period, names like Rickenbacker, Epiphone, Gibson and Fender together with a Ludwig drum kit, they also use original amplifiers, names such as Vox and Fender.

The Beatles look is completed by the use of original stage clothes.The Cavernites have performed their unique tribute to The Beatles at major outdoor and indoor music festivals both here in the UK including Tribfest UK, Mathew Street Festival, Liverpool Beatleweek, Liverpool Echo Arena, Belgium Mons Expo and abroad in France, Belgium, Finland and recently the gulf of Arabia.

They have been regular performers at Liverpool's famous Cavern club recreating the early Cavern clubs sweaty Rock and Roll sessions in the best of cellars.The Cavernites are more than just a tribute show, they are the closest you can get to going back to Beatlemania!
Shortlist
---
Price Guide
For an approximate quote, please enter your postcode:
Song List
Twist And Shout (short)
She's A Woman
Ticket To Ride
Daytripper
Eight Days A Week
Things We Said Today
A Hard Days Night
I Should Have Known Better
Help
I Want To Hold Your Hand
I Saw Her Standing There
I Feel Fine
Get Back
Roll Over Beethoven
Bad Boy
Slow Down
Chains
Baby It's You
Norwegian Wood
All My Loving
Yesterday
Long Tall Sally
I'm Down
Do You Want To Know A Secret
Can't Buy Me Love
She Loves You
I'm Happy Just To Dance With You
Drive My Car
Come Together
Don't Let Me Down
Twist And Shout
Hey Jude
The End
And Many More!
Previous Clients
E.M.I London
Apple Corps Ltd (the Beatles)
Waterstones Publishing
LFC Liverpool Football Club
Liverpool Cathedral
P&O Cruises Ltd
B.B.C Television
Sky Tv
B.b.c Radio
The Cavern. Liverpool
Number 64. Liverpool
Hard Days Night Hotel. Liverpool
Best Western Hotels
Tribfest. Yorkshire
Beatles1 Day Festival
Beatles Day Mons, Belgium
Mons Expo. Belguim
Tempre. Finland
Hilton Hotels
Pavilion Theatre, N Wales
Band On The Wall. Manchester
Mambo's. Manchester
Abbey Road Studios. London
Beatlefest Movile. Ireland
Blakehall. Bridgewater
Pickering Sixties Festival
Roseapenna Hotel, Co Downing, Ireland
And Many More!
Testimonials
'You have to remember that The Beatles were a dance band, a rock and roll outfit, they played the clubs and dance halls all over Merseyside then Hamburg then the clubs grew into stadiums but they stayed the same Four lads who liked to rock and roll, the closest I've seen for their style and the way they are personally is The Beatle Band - they have that vibrancy and passion.
- Tony Bramwell Original Beatles tour manager 1962-66.

'Been coming to Tribfest for 4 years now, these guys were fantastic, was awaiting their performance in the V.I.P tent, I've seen a few Beatles tribute bands in theatres before, so kinda knew what to expect, but didn't expect what I saw and heard from these Four guys, no twee little head boppin show from these lads it was full on stadium Beatles just like the live concert films, it was all there the Rickenbackers the drums the suits the boots and the screams, the audience went nuts, best band of the weekend for me, can't wait to catch them again.'

"As a man of a "certain age" I have vivid memories of the lunchtime sessions in the Cavern from 1962. I worked in Liverpool city centre and went to the Cavern regularly during the week. I used to enjoy not only The Beatles, but Johnny Sandon and the Remo Four, The Big Three, Gerry and The Pacemakers, The Fourmost and many other groups. (They weren't "bands" in those days). Having seen The Cavernites perform, I can safely say that they recreate the music from that era perfectly, much more so than any other group. They fill this old man with nostalgia, for their performances are authentic and capture the mood and magic in a way unlike any other. I can thoroughly recommend them and I thank them for their dedication in capturing the music of my youth".
- Audience member Cavern Club, Liverpool.

"Loved you guys, your power and vibrancy was overpowering, really got the audience going, no sitting down watching you guys, you certainly have all the Beatle moves going, Fab!!"
- Tribfest 2015 audience member facebook message.

"Another Fantastic night, everyone coming back to us saying what a great night it was, reliving the Sixties right before our eyes. It was just like seeing The Beatles play at the ABC in Manchester all those years ago, the years disappeared and I was back being a teenager for the night. Can't wait for the next one"
- My Generation Club event.

"We love you, yeah, yeah, yeah, yeah, thanks you so much for making my birthday part the best ever. You guys are the loveliest people to meet, as well as outstanding musicians of course x, love you all, what a party, dancing from your first song all night, lots of bookings coming your way from my guests they love you too x"
- Louisa 21st Birthday party.

"The Cavernites recreate The Beatles as they were intended to be seen and heard, live,raw, powerful, vibrant, suited and booted with a lot of Liverpool charm and wit"
- B.B.C Radio interview.
Set Formats
The Cavernites Offers:

1 x 60 Minute Set
Or
2 x 45 Minute Sets + Encores

These Beatles are based in Liverpool/N Wales. Available to travel and perform anywhere in the UK and Europe.