King Henry VIII Brought To Life At Your Event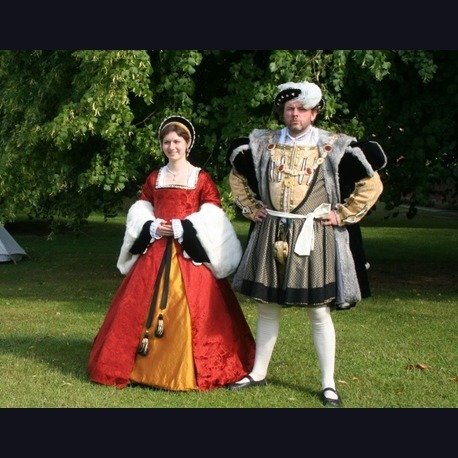 Ian J. Pycroft has been performing as His Majesty King Henry VIII for 6 years. From Cathedrals and Castles to the classroom and village fetes, for a magnificent centrepiece to your event, King Henry is brought vividly to life by Ian's knowledge of historical facts, acting ability and trivia about our most famous monarch.

The act can be expanded to include other Tudor characters - a Tudor Queen being the most obvious partner, or executioner, barber surgeon, falconer, minstrels.

Ian has also made hundreds of appearances in other historical roles, ranging from Roman Centurion through to Second World War RAF pilot. All are brought to life with humour, well researched background information and attention to detail.

Ian owns all costumes, accessories, suits of armour, props to make the presentations more realistic. He is able to ride horse, lead dances, fly falcons, condemn miscreants to a period of incarceration in the Tower and more.
Shortlist
---
Price Guide
For an approximate quote, please enter your postcode:
Previous Clients
Blickling Hall [national Trust] 'the Return Of The Queen' Event
Peterborough Cathedral - Katherine Of Aragon Festival
Vivacity - Peterborough City Council Annual Summer Living History Fayre
Pensthorpe Nature Reserve 'medieval Spectacular'
English Heritage 'festival Of History'
Dover Castle
Hertford Castle
Schools
And Many More!
Optional Characters
Roman Centurion
Anglo Saxon Thegn
Norman Knight
Medieval Monk Or Friar
Medieval Knight
Medieval Merchant
Sir Walter Raleigh/elizabethan Gentleman
Guy Fawkes
Matthew Hopkins / Witchfinder General
Capability Brown /georgian Gentleman
Thomas Masterman Hardy /captain Of Hms Victory
William Fox-talbot, Victorian Gentleman
Lord Augustus Holkham, Victorian Explorer
World War 2 Soldier,sailor, Airman.
Testimonials
Black Knight Historical provides a friendly, efficient, versatile and highly professional service, whether providing a single costumed interpreter or a significant proportion of a heritage festival. Ian is a pleasure to deal with and provides simple and cost effective solutions to our requirements.
- Stuart Orme, Vivacity.

I wanted to say thank you so much for the wonderful day you provided for the Year 5 children at Kingswood Prep School. We all had a fantastic time and feel that the Tudor period was brought to life at school. The children were buzzing for days afterwards and are so enthused about our history topic this term. As staff, we couldnt have asked for more. Your knowledge was second to none and the clothing and artefacts made history real for our children. We would love to book again for next year. Thank you so much again. I have mailed some letters from he children to show their appreciation for everything they have learned. Please take care, we look forward to seeing you again soon,
- Jessica Rexe, Kingswood Prep School, Bath.

" I wanted to write a note to say a very big thank you to you both, and to all of your team who were unfailingly charming and professional. What a great first Christmas opening for all of us. Thank You."
- Viscountess Coke, Holkham Hall.

From the initial contact to staging our event, Black Knight have been wonderful partners to work with. They were keen to find out exactly what we wanted and put together a programme which exceeded all of our expectations. They have kept us in the loop about performers taking part, have been very responsive to requests for information and given us exceptional value for money. The event put on by Black Knight will never be forgotten by the many thousands of people from Guisborough who attended. The quality of costumes, props and general environment created was incredibly authentic. The quality of performances and demonstrations were exceptional highly educational and thoroughly entertaining. The quirky characters all had the ability to engage children and adults alike throughout the whole day with a wonderful array of props, activities and performances.
This is a group that definitely goes the extra half mile. I would have absolutely no hesitation in recommending Black Knight to anyone considering putting on an event. Book them now you wont regret it.
- Robert Grierson
Vice Principal and Organiser 450th Celebrations Prior Pursglove College Church Walk Guisborough

From our point of view, the evening was a complete and utter success. The sponsors were delighted with the theme, the activities, the characters involved who not only looked superb but were also brilliant at interacting with a bunch of insurance professionals. The birds were a massive hit as well. We hope you got as much pleasure as us from the evening. We will begin planning for next year's event around December/January time so we will be in touch to see if you can help us again - I have no doubt you can! Thank you for everything and very kindest regards
- Wendy G