Charming & Comedic Magic & Theatrical Hypnosis For Any Event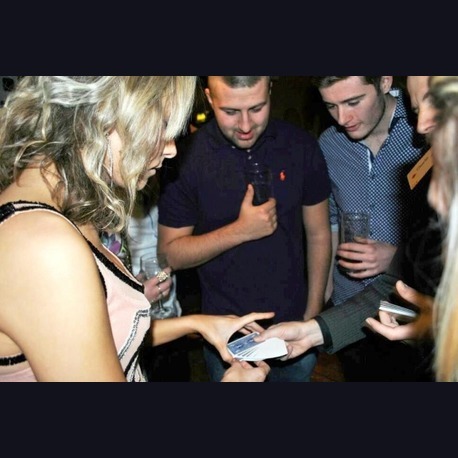 Chris Piercy is a fantastic choice as the entertainment for your next event.

He boasts an extensive and unique array of fascinating and baffling tricks which are guaranteed to leave your guests both laughing out loud and scratching their heads.

Chris' interest in magic began at the age of 10 in 1994 when he "borrowed" one of his sisters' Christmas presents - a book on card magic - he has been learning, performing and creating magic since.

Chris has years of professional experience performing at Weddings, Birthdays, Anniversaries, Restaurants, Bars, Parties, Events and more.

He has also performed to all walks of life from late night bars to formal dinners and everything in between so he can easily tailor his act to your specific needs and requirements.
Shortlist
---
Price Guide
For an approximate quote, please enter your postcode:
Previous Clients
The Ship Inn, Weymouth
Hourglass Promotions
Thornlow Preparatory School
The Dining Room, Weymouth
The Nook, Weymouththe Lazy Lizard, Weymouththe Lounge Bar, Weymouth
Numerous Private Weddings And Functions
And Many More!
Testimonials
After the magic words had been spoken, even more magic ensued, as Chris Piercy dazzled guests with novel and innovative tricks and games.
- Langtry Manor Hotel, Bournemouth

Ive hired Chris for both the Lazy Lizard, The Nook and have seen him perform in a variety of places around Weymouth. 100% Awesome. Guaranteed to blow your mind every time!
- Barry Whettingsteel Bar Manager

Hey Chris, Just want to say thanks for an amazing night of magic at my mums 50th! Everyone I have spoken to said how amazing you were, and that they really enjoyed watching you perform! You really know how to mess with peoples heads!
- Ben Clifford

Chris did some magic at my husbands 40th last year and it was brilliant night everyone loved it. Really good for any occassion, it was a great gift and added something different.
- Amelia Warr

Just a quick note to say a HUGE thank you for a brilliant show last night. Your tricks were amazing & really got people talking.We would thoroughly recommend you to anyone.
- Sam & Andy Spracklen

Hey Chris! Was great to meet you! Still trying to work out how to put a coin through a table!
- Elite Events

Hi Chris, Thanks so much for the show last night , they all said they enjoyed it
- Shirley Snell Sunrise Gateway Club

Thanks for performing your magic at the Anonymous festival 2011. Feedback from the audience was overwhelmingly positive . Your delivery was very slick, amazing the crowds with new material which hadnt been seen before. Great to work with too. Loved it!
- Jude Allen, Cultural Development Officer
Set Formats
Chris Piercy Offers:

Up To 2 Hours Of Mix & Mingle Magic