Magic, Illusion, Juggling and Escapology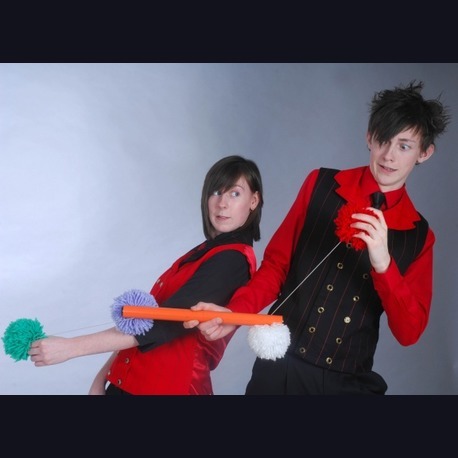 High Jinx are professional variety entertainers, their acts are a thrilling mix of Magic, Illusion, Escapology and Circus skills delivered in a way that will leave you amazed, puzzled even scared but above all entertained.They have appeared all over the UK at dinners, festivals, corporate events and theatre shows as well as appearances throughout Europe and America including Disneyland Paris and the famous Boston Plaza Hotel, Boston USA.

Michael is 20 years old and already an accomplished Magician, Unicyclist, Juggler, Illusionist, Fire Eater and Stilt walker. he is a confident likeable performer whether on stage performing to thousands or working in an intimate setting doing close up magic.He was the Magic Circle "Young Magician of the Year" 2009-11 along with many other awards in the world of Magic and entertainment.

Siobhan is a trained actress and magician, she has made a number of TV appearances and also does voice over work, she is an accomplished musician playing Cornet, Piano and Guitar.She is a member of Equity and The Magic Circle

Tamsyn is a trained actress, dancer and singer, she has appeared with the English Youth Balletcompanyand had various parts in Film and TV productions.A very passionate and lively performer with a BA(Hons) in acting for theatre, film and Television.Tamsyn is also a member of Equity.

The High Jinx show is worked with either Tamsyn or Siobhan depending on availability.
Shortlist
---
Price Guide
For an approximate quote, please enter your postcode:
Previous Clients
Disneyland Paris
Channel 4 Holyoaks
Channel 4 Shameless
National Childrens Conference
Butlins
Pontins
Haven Holidays
Qdos
Moonraking Festiva
Lhuddersfield Food And Drink Festival
Showzam Festival
Yorkshire Water
Halifax Building Society
Brittany Ferries
Society Of Freemasons
Hm Prisons
Magic Conventions And Dinners
Scout And Guide Association
Bourne Leisure
And Many More!
Awards
Fism Europe 2011 Runners Up (representing Uk)
The Magic Circle "young Magician Of The Year" 2009
Buxton Fringe 2010
Nominated Best Family Event
Buxton Fringe 2009
Best Event
European Close Up Magic Finalist 2009
British Stage Champions - International Brotherhood Of Magicians
Testimonials
All seven finalists who appeared on stage at The Magic Circle headquarters in London last Sunday should feel really proud of their achievement. Twenty-two young magicians initially entered, with just seven making it through to the final stage of this career-launching biennial competition. I've always rated this competition as the most important in British magic. Since its inception in 1961 it has showcased a rostrum of magical talent... from Johnny Hart onwards. So, many congratulations to Michael Jordan whose lively personality, variety of material, pace and humour captured the judges votes last Sunday. The best disappearing act since Lord Lucan was around, with the girl in the box trick performed better than David Copperfield in Las Vegas.
- Press Release 27 July 2009

Although still only seventeen, he is fast developing into someone who will almost certainly be one of Magics superstars before much longer.
- Iwan Fox

The undoubted comedic highlight of the act is when the pair simultaneously escape from straitjackets its nice to see something imaginative and different.
- Abra Magic Magazine

High Jinx, once again showing their great versatility with juggling, fire eating tricks and illusions. The double strait Jacket escape was included as was a very impressive presentation of the Origami Box, a snowstorm which turned into a blizzard and even some juggling with sabres while riding a unicycle. This couple have a lovely warm personality which simply radiates fun and enjoyment, and which in turn is communicated to the audience. Splendid.
- Brian Lead, Modern Mystic League

High Jinx have developed into a very personable and multi talented award winning act.
- Roger Woods

The first set ended with High Jinx and I expected to see their Comedy routine, instead I sat back and enjoyed a well polished, choreographed performance of illusion.
- Peter Worral

You could put High Jinx on twice at an event and get them to do their comedy routine and the illusion act and either would top the bill.
- The Magic Times

Michael Jordan and his sister Siobhan are extraordinarily accomplished, entertaining and witty. They are engaging, not too slick and take their audience with them all the way. You will have a very good time in their company.
- John Wilson, Buxton Fringe

Michael and Siobhan Jordan a witty and daring brother and sister combination called High Jinx. They are beginning to find their own voice, so to speak, and their progress will be worth watching.
- Kieth Savage, Buxton Advertiser
Set Formats
High Jinx offer:

From 10 minutes to 45 minute illusion show.