All Round Clean Comedy Entertainer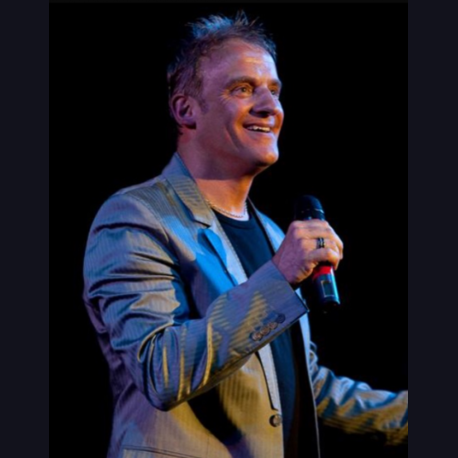 Good clean, a little cheeky, comedy, with some vocals & impressions, very much like a Freddie Star/Brian Conley/ type show, Since turning proffesoinal in 1993 Bobby has worked all over the world, hotels abroad, cruise ships, all UK holiday parks, theatres, Pantomime every year since 1998, recently headlining as Buttons- in Cinderella at Welwyn Garden City .

A must see all round entertainer/actor/host/compere. Many TV & Radio credits to his name. ie, Richard and Judy show itv, Des O'Conner show itv, David Dickenson show itv, Marti Cane Comedy show BBC 1, Many acting and walk on roles in: Emmerdale, Coranation Street with Peter Kay, Peak Practise, Heartbeat, Many Theatres all over the country and supporting top names ie, Ken Dodd show, Little & Large show, Paul Daniels show, Vince Hill, The Nolans, Return vivits to the Leeds City Varieties ( Good Old Days ).

And the list goes on. Radio on BBC Radio nottingham, Lincs FM, Swindon Radio, Pantomimes: Babes in the woods, Aladdin, Snow white,Cinderella, Jack & the bean stalk, Beauty & the beast.
Shortlist
---
Price Guide
For an approximate quote, please enter your postcode:
Previous Clients
Dick Ray (jersey)
Madabout Productions (uk)
Dick Ray (island Or Jersey)
Dougie Chapman Assosiates (uk)
E&B Productions (qudos) Uk
ITV
BBC 1
BBC 2
Duo Entertainments (barry Stead)
Jim Davidson Productions
World Darts Legions
Britannia Hotel Group
Warner Hotels
Thompson Hotels Gold & Family
Fred Olsen (cruise)
Page & Moy (cruise)
Airtours (cruise)
Brittany Ferries
Sun Cruises
Peter Sanderman (leeds City Varieties)
Sky TV
Charles Vance (london)
Anglia Television
And Many More!
Testimonials
The act was excellent - an Ideal act for a golf club presenting a good range o humour and entertainment for the broad spectrum of gust of all ages. well worth considering for all golf event types. Thanks very much.
- Brookfield Golf Club

The transformation scene, when Cinderella is morphed from the downtrodden girl in kitchen rags to the beautiful Princess Crystal clothed in a shimmering ball gown with a glittering coach awaiting, is probably the most magical moment in this entire production. Why, then, was it deemed appropriate to interrupt the enchantment of the moment by dropping in a black cloth and inserting comical characters illuminated by ultra-violet lighting? A puzzlement, indeed.
Nevertheless, despite such a misplaced intrusion, this is a pantomime of genuine quality, topped by an excellent performance by Lorna Amy Sullivan in the title role. Bobby Dazzler was well cast as Buttons, displaying equal quantities of pathos and humour delivered with great warmth, while Paul Tate and Chris Vincent were deservedly booed and cat-called as the shamelessly wicked Ugly Sisters. Prince Charming (Ben Peachey) and Dandini (Duncan Leighton) worked well together in their regal roles - their vocal duet Me and My Shadow was a showstopper - while Mike Scurfield was a convincing Baron Hardup, Helen Crosse a bewitching Fairy Godmother and the ensemble, as always, first class - ably complemented by the Babes, pupils from the local Shooting Stars Academy.
- Cinderella: THE STAGE, Jim Kennedy

This Christmas, Mad About Productions has brought the fairytale Cinderella to Campus West in Welwyn Garden City, promising plenty of songs, slapstick comedy and stunning costumes and set, in a show that is rich in music, magic and mayhem. And while the title character, her ugly sisters, fairy godmother and the handsome prince are central to the story, it is the silly and funny, but faithful and loveable servant Buttons that often steals the show. Taking on the role of Buttons is stand-up comedian Bobby Dazzler, who says he wanted to do panto from a young age. I remember going with my parents to see pantos, and the amazement of it all, and how it was all like a dream to me, he says. I wanted to get up there and do it. Bobby spends much of his time travelling the country doing stand-up shows, but he says doing panto is one of the highlights of the year, and he gets a lot of satisfaction seeing the smiles he brings to the faces of the audience. People need to bring children to the theatre, because they arent as aware about the theatre these days, he says. Its wonderful seeing the children go wild you realise the story is so real to them. Thats what its all about.
- Watford Observer,

Our evening was amazing with Bobby Dazzler everyone had such a laugh and he told the right jokes for the age of the audience but still kept it on the edge which made it even more hilarious. Bobby did a great job at involving the audience and making them apart of the night as well. He was also on time and efficient which was nice as a lot of our entertainers have turned up late for these events. I would recommend him any day of the week.
Laura
Shinfield Care
Set Formats
Bobby Dazzler Offers:

1 x 60 Minute Set