Quality Experienced Clean Comedian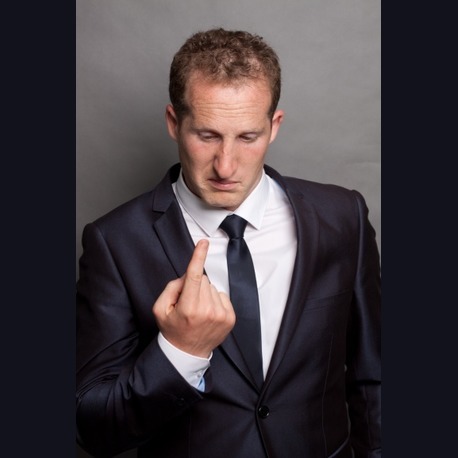 Tony Vino is the only half Spanish half Scottish hybrid working comic in the world. Born in Malaga he was subsequently raised in the Costa Del Preston, Lancashire. When he was only a toddler his Father looked around saw the sea, the sand and the sunshine of the Andalucian coast and thought we need to be nearer Wigan Pier.

He has been a pro comedian for over 8 years touring both nationally and internationally. A finalist in 2006 Funny Bones competition, Tony has enjoyed recognition as a comedian and comedy compere of renown.

Tony is best known for the way he seamlessly mixes well thought out observational humour with audience interaction and quick witted responses.His life and interests are wide ranging, and so is his material, all performed in a warm, friendly and non-offensive style.

Well aware of social and political issues Tony has been called upon to entertain at many many annual conferences for companies such as ASDA, Co-op and Kingston Communications.

He is also a well sought after act for high profile fundraising events for charities as Christian Aid, Oxfam, Fairtrade Foundation and TearFund. He was also the official warm up comedian for BBC Songs of Praise (tough crowd). You can also hear him regularly as a regular weekend comedy pundit on BBC Radio Manchester. In 2012 he supported Tim Vine on his Chat Show tour.

When hosting festivals and corporate events his confident effervescent persona has been found ideal for engaging crowds in their 100s and 1000s.

A Great Show, the assured Tony V copes with a mixed audience really well Kate Copstic, The Scotsman The compre Tony Vino was excellent 3 Weeks 4 stars 3 weeks Uplifting style, great delivery and consistently funny throughout Sam Walker, BBC Manchester

Tony is very funny, a class act and always comes up with the goods Darren Goddard, Greenbelt Festival Events Funny, straight talking. Not afraid to dabble with religious issues, silly not sacrilegious. Tim Park BBC Website Warm, engaging, funny and likeable, everything you want in a comedian Lunacy Comedy Tony was delightful, he had 1000 people fully engaged and laughing throughout Paul Jennings, ASDA Events/Communications Comedy thats life affirming BBC1 Heaven & Earth Show

You dont always get such complete honesty from a comedian Three Weeks Socially aware inoffensive fun The List.
Shortlist
---
Price Guide
For an approximate quote, please enter your postcode:
Previous Clients
Royal Bank Of Scotland
Coutts Bank
Natwest
Goodwood Racing
Kingston Communications
Asda
The Co-operative
Harlequins Rugby Club
Worcester Cricket Club
Penwortham Golf Club
West Essex Golf Club
Brampton Park Golf Club
West Ham United Fc
Sale Sharks Rugby Club
Fleetwood Town Fc
Newcastle United Fc
Somerset Cricket Club
Crowborough Beacon Golf Club
Blackpool & Fylde Yacht Club
Richmond Golf Club London
The Kennels, Goodwood
Duff House Golf Club
Crieff Golf Club
Salisbury Golf Club
Silverstone Golf Club
Mid Yorkshire Golf
The Village Inn
Cheltenham Football Club
Wilmslow Hockey Club
Somerset County Cricket Club
And Many More!
Testimonials
Tony was great - very professional and pitched just right for the audience. The whole process from making the booking onwards was smooth and efficient too.
Regards
- Nic, The Village Inn

Quite literally had us in stitches Tania Pramschuffer, Hand Up
- Media Events

You really added something special to our Gala Dinner, thank-you
- Esther Thompson, Standing Ovation Events

Tony is very funny, a class act and always comes up with the goods
- Darren Goddard, Greenbelt Festival Events

Tony was delightful, he had 1000 people fully engaged and laughing throughout
- Paul Jennings, ASDA Events/Communications

Tony was an awesome compere
- Chris Reed, Newcastle United FC Events

Comedy thats life affirming
- BBC1 Heaven & Earth Show

Uplifting style, great delivery and consistently funny throughout
- Sam Walker, BBC Manchester

A Great Show the assured Tony Vino copes with a mixed audience really well
- Kate Copstic, The Scotsman

The compre Tony Vino was excellent
- 3 Weeks

**** The Scotsman & 3 weeks (2010 Edinburgh Show)

Socially aware inoffensive fun
- The List
Set Formats
Tony V Offers:

1 x 45 Minute Set