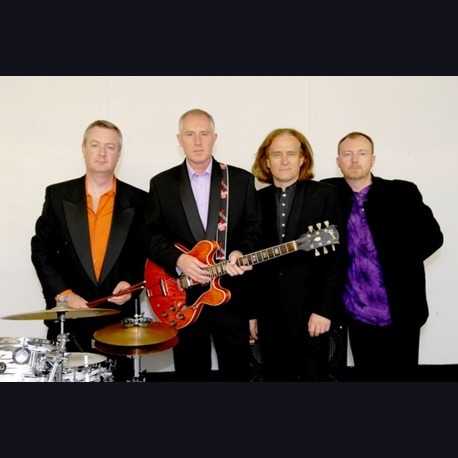 The Last Time
Day Tripper
You Really Got Me
The band features Paul Hudson on vocals and guitar formerly of Rocky Sharpe and the Replays whose top twenty hits include Ramalama Ding Dong and Shout Shout. Paul also wrote the crazy Rock n Roll feature Straighten out the Rug for Hollywood movie star Val Kilmer which Val performed in the major comedy film TOP SECRET

Fox - Bass guitar and vocals.
Fox plays a Lakland 5-string bass and has worked with many great bands including session work with ex-Yardbirds members.

Pete Miles - Drums.
Pete has an illustrious drumming pedigree having played with some of the all time greats of RnB including Jack Bruce, Chris Farlowe and Dave Kelly.

The Gear:
The Replays use a compact 1KW Electrovoice PA system with a modest but very cool lighting show. The band can set up in the smallest of spaces but also amply fill large halls and theatres.
Shortlist
---
Price Guide
For an approximate quote, please enter your postcode:
Song List
You Really Got Me
Summertime Blues
No Particular Place To Go
All Or Nothing
Last Time
Nadine
Run-around Sue
Pretty Woman
Tired Of Waiting
Cant Buy Me Love
Sunshine Of Your Love
For Your Love
Apache
Ferry Cross The Mersey
Not Fade Away
Money
Hard Days Night
So Happy Together
Roll Over Beethoven
All Day And All Of The Night
Cmon Everybody
Day Tripper
Ticket To Ride
Tobacco Road
Satisfaction
Jumping Jack Flash
Get Off My Cloud
Keep On Running
Cant Explain
My Generation
Wipe Out
Shaking All Over
True Love Ways
Hey Jude
Day Dream Believer
Wild Thing
High Ho Silver Lining
Johnny B Goode
Bye Bye Johnny
Lets Twist Again
The Twist
Twist And Shout
Get Back
Revolution
Come Together
Heartbreak Hotel
Raining In My Heart
Be Bop A Lula
Carol
Move It
Purple Haze
All Over Now
Runaway
I Hear You Knocking
Stand By Me
Rock Around The Clock
Man Of Mystery
Hit And Miss
Peter Gun
And Many More!
Previous Clients
Basingstoke Country Hotel, Hook
The Sun Inn, Dunsfold
Rbl Club Hindhead, Surrey
The Keller, Copthorne Hotel, Bracknell
The Mulberry, Farnham
Leigh Park Social Club, Havant, Hants
Conservative Club, Chelmsford
Lion Brewery, Ash Vale
Imperial Standard, Aldershot
West End Club, Woking
The Keller, Coppid Beech Hotel, Bracknell
Conservative Club, Tooting
Yatendon Social Club, Thatcham
The Faraday Club, Slough
Samuel Cody Hall Farnborough
Ivy Leaf Club
Blacknest Golf Club
West End Club
Sports Club, Riverdale, Wrecclesham, Farnham
The Keller, Coppid Beech Hotel
Sudbury Golf Club Bridgewater Rd, Wembley
Conservatives Club, Fullers Road, Rowledge, Farnham
Knaphill Wmc
Frimley Green Social Club
West End Club
Lee On Solent Golf Club, Brune Lane, Fareham
Blacknest Golf Club, Frith End Road, Nr Farnham
West Surrey Golf Club, Enton Green, Station Lane, Godalming
Rbl Club, Legion Way, East Wittering
And Many More!
Testimonials
When I left the summer ball, the dance floor was still heaving and Im told it was right through to the end of the evening many thanks, everyone Ive spoken to loved it. We had a fantastic time, it was just like one big party!
- The Replays at Cody Hall, Farnborough

Brilliant! The best band we have had here in 16 years of live music!
- St-Georges Day Party in Rickmansworth
Absolutely fantastic gig last night everyone I spoke to was very complimentary about the music and song choices! I wouldnt hesitate to book The Replays again. Well done!
- 50th Birthday party in Dunsfold


Excellent 60s band, they kept the audience rocking all the time. The Beatles stuff was all very authentic and Ive never heard Chuck Berry songs played so well!
- Beer Festival in Farnham

What a great show! Please thank all the band for me for a great night.
- Private Garden Party in Woking

Thank-you again for the wonderful show at my daughters wedding absolutely perfect!
- Wedding in Hampshire

Many thanks for arranging the Band to play at the Rose & Crown. This is the first band we have booked and thanks for making it so easyThe guys were fantastic and we will certainly be asking them back through the year. We do have a wide spread of ages in the village and all enjoyed the night. Thanks again, All the best, Phil
- Valentines Night Event in Berkshire

What a great show on Saturday, I have had some fantastic feedback from club members saying that you are the best thing they have heard and seen in a long time! Well definitely be booking the band again. The band were a great success and really added a touch of professionalism to the whole event. The audience new all the songs and what a great set for a great day!
- Help for Heroes Charity Festival in Kent

A great sounding band, they had a brilliant report wit the audience and hit just the right note for our do. I loved the Stones songs and thanks a million for a great night!
- Wedding reception party in Richmond
Set Formats
The Replays Offers:

2 x 60 Minute Sets