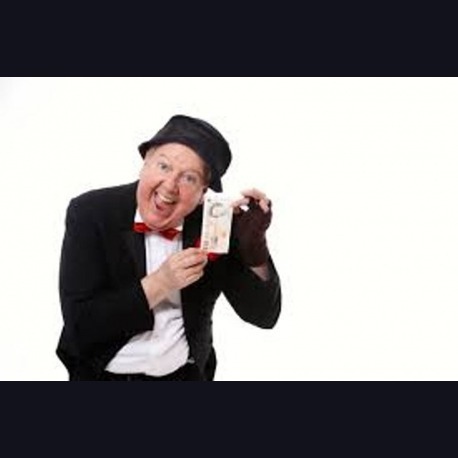 Hi folks, thought I would tell you me a bit about myself, so come closer!

I was actually born James Mulgrew on October 17 1945 in Cookstown, Northern Ireland, so I celebrated (if thats the right word!) my 69th birthday in 2014.

I left school at 16 years of age and worked for the next two years in a betting shop, before spending the summer of 1966 working as a Redcoat in Butlins holiday camp at Mosney, County Meath, followed by two more summers at the Butlins holiday camp in Clacton.

By the early 1970s I was living in Manchester and from 1972 worked at the Pontins holiday camps in Southport and Morecambe.

I won LWTs talent contest, Search For A Star, and was later given my own series on Central Television in the mid-1980s called And Theres More (which included the first TV appearance by the impressionist Rory Bremner). I also had my own programme on BBC Radio 2, featured in The Krankies Klub alongside The Krankies (who else!) and Bobby Davro and appeared on the Royal Variety Show (1984). I appeared in the 2007 Comic Relief video of The Proclaimers song Im Gonna Be (500 Miles) which featured Matt Lucas and Peter Kay.

I am married to May, who is a very good singer, and we have four children, Dale (a politician), Jamie (who sings with a folk group), Katie (a comedienne) and Frankie, who started off as a comedian but who is now a Roman Catholic priest.

After producing several CDs, my first DVD was released in early 2010 and my latest adventure in musical theatre , Maloneys Big Moment, premiered at the Thwaites Empire Theatre in Blackburn during 2013. This musical is a fun piece about an Irishman called Paddy Maloney who lives in an ex-pat community in the south of Spain. When the local Spanish Mayor gets thrown out due to corruption, Paddy steps up to the plate and becomes Mayor without being able to speak a word of Spanish!

This year has seen me release a novelty comedy song called I was bit by Luis Suarez. The song is available across all major digital outlets.

I am about to release a new comedy song for the 2014 Christmas season called Harvey the turkey.

My best-known catchphrases include come closer! and and theres more!.

I wear a funny hat, have my wellies on the wrong feet and regularly get a Letter from Mammy!

And theres more!"
Shortlist
---
Price Guide
P.O.A.
Please contact us for a quote.
Achievements
Appeared in four television series on ITV of And Theres More.
Appeared in a television Special broadcast on ITV called All Cricket and Wellie
Appeared in five radio series of Jimmys Cricket team broadcast on BBC Radio Two
4 CDs released: Best of Jimmy Cricket, Jimmy Cricket Bee in his bonnet ,Jimmy Cricket Im dreaming of a far off land and Jimmy Cricket Light and Shade
1 DVD released: Jimmy Cricket Live Pull your seats forward (available from his website)
Two books published of Letters from his Mammy
Three Musicals written called One good season, Lets hear it from the wee man and Maloneys Big Moment.
27 pantomimes seasons completed in theatres across the UK.