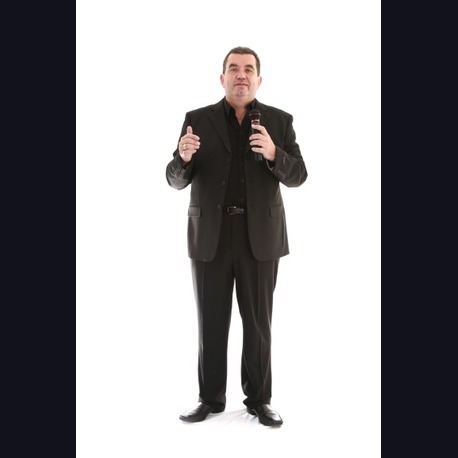 Ian Dee has been performing stage hypnosis throughout the UK and Europe for the past 17 years, developing one of the most sought after one-man shows today.

His performances are unique, hilarious, enlightening and always tasteful; earning Ian Dee an outstanding reputation for bringing a fresh, fun and purely entertaining approach to hypnotism. Ian Dee's stage presentation features a completely open and observable process during which the audience becomes witness to a remarkable transformation; that of the participant's journey from a conscious to a subconscious state of mind.

It is with his participants in this hypnotized state, that Ian Dee builds his enormously entertaining performance, enjoining participants and audience members alike together with his fast-paced comedic wit in a superb, unforgettable one of a kind performance. Each participant will react differently to the suggestions offered, so no two shows are ever alike! Because of this unique factor, Ian Dee is able to personalize the performance to fit any event or corporate function.

The performance is 60 - 90 minutes of pure enlightening fun!! Using his experience to entertain, come explore with Ian Dee the creativity and imagination within the subconscious minds of his participants. This show is as much fun for the audience as it is for the participants!.
Shortlist
---
Price Guide
For an approximate quote, please enter your postcode:
Previous Clients
Fantasy Island Skegness
Loughborough University
The Hilton Hotel Milton Keynes
The Village Hotel Coventry
Potters Green Community Centre
The Suncastle Skeness
Coastfields Holiday Park
Ingoldmells Lincolnshire
The Queens Hotel Chester
Framlingham College Suffolk
The Old Golden Lion Essex
The Vine Hotel Skegness
Gloucester University
Wrexham University
The Novotel Wolverhampton
Raf Cranfield
Lincolnshire Raf Bourdon
And Many More!
Testimonials
Dear Ian thanks very much for making my testimonial function at the Walkers Stadium such a success your Hypnosis Show was the highlight of the night. Thank you also for Manchester
- Austin Healey Leicester Tigers And England

Ian The show was great. Thanks for making my father in laws Birthday Party a big hit it was really nice to meet you Thanks Again
- Mrs Duggan Newcastle

Dear Ian We wanted to write a quick letter to say thanks so much for coming to Wisbech and performing for us at the Highwayman You seem to really enjoy entertaining we look forward to seeing you again .Thanks again and keep having fun!
- From Laura and staff at The Highwayman
P.s Thanks for making my husband the star of the show he didnt beleive it worked he does
now

Dear Mr Dee We are still laughing about the antics of our Players after our Hypnosis show you put on for us in Tamworth. I have received countless comments about the fun everyone had that evening. Thank you for being everything you said you would be!! Hope to see you next year
I hope you had a safe trip back to Skegness Take care
- Andrew Oneil Tamworth Castle Fc

Dear Ian It was such a great pleasure to catch your show on the 6th of August at Scallywags Showbar Fantasy Island. I haven't laughed and cried so hard in all my life. The type of material that you used in your show was as good as it gets. The compere mentioned before he annonced you that it was your 16th year there may you have many more .You helped make our holiday one we wont forget
Thank You,
- Kim and Colin Green Mansfield

Ian Dee, I wanted to send you a big "THANK YOU" for the wonderful job you did at our Summer party. Everyone thought that was our great entertainment and are already requesting you for next year's party. It's funny, the people who refused to get on stage this year are the ones requesting you for next year. Now, they want to be on stage. Keep up the great work, and if you ever need recommendations, I will not hesitate to give you a "thumbs up!"

I was at the Cambridge Uni Summer ball all night party. I got the chance to see Ian Dee hypnotize some of my friends, and all I can say is "WOW!!!" It was amazing. I don't think I've ever laughed so hard in my life. I had never seen a hypnotist before . Thank you so much for the good time, and the many laughs. I hope we will get to see you again in our part of the world.
- Thanks again, Rose Malin Cambridge Uni

On behalf of Shine I would like to extend my sincere thanks to you for the superb hypnotist show you put on for our annual Conference This was simply the best entertainment we could of wished for
- Paul, Shine Derby

On Behalf of our staff we would like to take this opportunity to thank you for giving our guests the pleasure of viewing and interacting with your "Hypnotist Show" at our Function. For days after our staff kept playing over and over in our staff room the DVD from you that we were able to purchase. Hearing all the laughter coming from our Staff Room was a well needed morale booster. The comments are that your show made this function a real hit will see you next year
- Wickes Northampton

WOW, What a Great Show! Can't wait to have you back. The best entertainment we have had for ages. Everyone is still laughing about the show Great job Thanks Ian.
- Sheila Firth The Hilton

On behalf of everyone involved in Charity Show we would like to take this opportunity to thank you for giving us such a great "Hypnotist Show". Laughter is great medicine and everyone had a great time. It was very funny and entertaining. It was great seeing people you know get up there and act however you told them. It was hilarious. You were fantastic and we really appreciate all your hard work. Can't wait to do it again!
- Colin Levine The Dream Team

Absolutely the best entertainment we have ever had. "True to his claim" "No one was embarrassed. No feelings hurt. A good time was had by all"
- Hykeham Club Lincoln

I have never seen anything like it. Young people were instantly dropping to the floor when Ian touched them. The show was so great, I laughed and laughed until my sides were hurting. What a show. Everyone should see Ian Dee. Very impressed. The young people were so excited before and after the show. What a night of fun. Look forward to catching as many of Ian Dees shows that we can.
- Matt Dawson Loughborough Universitie

Ian Dee is marvelous at what he does, and I couldn't believe he could hypnotize the professional people he did. Thanks to him and his show,
- Tina Ardley, First Choice Recruitment Services Chesterfield

Our Freshers night was a 100% success. Everyone is still raving about how much fun they had at the hypnosis show. You are a powerful showman. We will have you back.
- Queen Margarets College Edinburgh

Our Dads Birtday party was a riot. You show was outstanding. Everyone is still laughing their heads off about the show. Your the best.
- Samantha and Colin Hawkins Slough

This was the best laugh we have had for a long time. Our members are still talking about you and your show. I highly recommend you to anyone. You skills as a lstage hypnotist was way beyond our expectation. We recommend you highly. We will have you back.
- Michelle ,Warton Social Club Tamworth

We were able to raise the money for our fund raiser and what and outstanding show. Everyone loved your show. We will have you back soon. Thank you again for all you did to make our night a 100% success.
- Pam Liberal Club Skegness

Dear Ian I just wanted to formally thank you for the great show you put on for our annual Staff party. Many of the staff are looking forward to seeing the DVD of the show, and you'll likely be receiving calls from staff wishing to purchase their own copies. We had a terrific time, and for many of the staff who, like myself, had never seen a hypnotist perform, it was an amazing experience. Staff were talking and laughing about the show for several weeks afterward: it was the high point
of the conference. Should you want to use the contents of this letter for promotional purposes, please feel free: I should mention for the record that for the show we got, the price was very reasonable, your service and communication were impeccable, and staff appreciated the extra time you spent after the show. Thank you very much for a great evening, and perhaps we will see you in Burnley again in the future.
- Claire Jones Endsleigh Insurance Burnley

I couldn't believe it! It was the best Christmas party show we have ever had. Everyone is still talking about how great the show was. We can't wait to have you back. Our people were laughing so hard that I saw tears in many of their eyes. Simply, amazing.
- Tonges Engineering Spilsby Lincolnshire

Thanks for a great show. You were the hit of the night. Everyone had such a great time. Thank you for making our Christmas party the best we have ever had. We will have you back.
- Fiona Homebase Peterborough

Ian i am sure that you will have a good number of other bookings as a result of the show you put on last Saturday I heard a number of members talking about bringing you in for the presentation evening. It was a really entertaining show and I look forward to viewing the DVD.
- The Captain Shooters Hill Golf Club London

I have got to say, you have one of the best hypnosis shows on the market.
- Colin Morrison ,Tescos Gillingham

"This was the best Christmas part ever! Thank you again for the wonderful entertainment. We will definitely do it again!"
- Ken Bernnett - Builders Insulation Company

"We recommend you to our clients without hesitation, knowing your performance is a consistent crowd-pleaser and that you are dependable and extremely professional."
- Dawn O'Donnell - Entertainment Resources uk Ltd

"Thanks again for a terrific show. There were over 250 people at your performance and we heard nothing but positive comments. We would love to have you back again in the future."
- Waitrose Kettering

"We were very pleased with your demonstration at our Daughters 21st Birthday Party We received many complimentary remarks about our choice of "fun" entertainment and about your performance. You were great and we highly recommend the Ian Dee Hypnosis Show for any occasion."
- Andy And Claire Mercier,Bristol

"I wanted to say Thank-you with a capital T. You made our employee party fantasic! The laughter roared with excitement. Thank you for a wonderful show."
- Sarah Owen, Beverage Supervisor Best Western Hotels

"As in the past, the kids were mesmerized by your show. What is most refreshing is your professionalism with the students. Everyone who attended, students and teachers alike, were thoroughly entertained."
- Simon Albright, Student Actvities Coordinator -Warwick universitiel

"Year after year, you continue to captivate our audiences with a show that amazes even the skeptics in the audience. .....after 8 years, with multiple performances in several of those years, I know that I can depend on you for a quality performance that takes little or no preparation on our part."
- Nigel and Gary The Suncastle resort Skegnss

"The last time you performed for our guests, it went over so well that many of them are still asking for you."
- R. McNinch ., General Manager -The Swallow Hotel
Set Formats
Ian Dee Offers:

Up To A 90 Minute Show

Public Liability Insurance:

Ian is a member of the goverments only recognised body F.E.S.H. The Federation of Ethical Stage Hypnotists and is one of around ten hypnotists in the UK with full public liability insurance.