International Professional Close Up Magician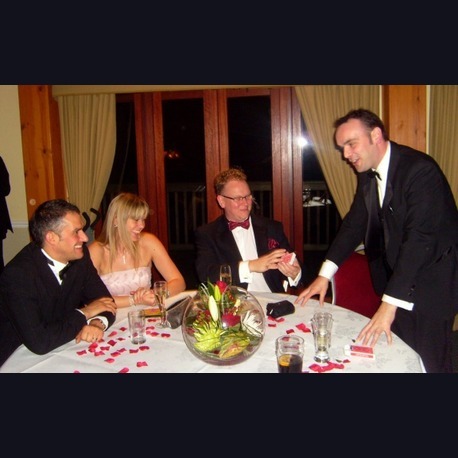 Craig is one of the most sought after and coveted mind readers and close up magicians throughout Europe and the UK!

Having performed numerous times for members of the British Royal family, Craig is a highly skilled performer who specialises in high end entertainment, mind reading and close up magic, combining comedy and showmanship at the very highest level for over 16 years!

With recent clients including HRH Prince Harry (2 seperate occasions), Footballing Legend Pele, Joe Calzaghe (4 separate occasions), Sir Geoff Hurst, Ricky Hatton, Brett The hitman Hart, Paul Gascoigne, Pixie Lott, Donny Osmond, Kevin Nash, Mark Owen (Take That), Olympic Double Gold Medalist Rebecca Adlington at her exclusive VIP home coming party, Kell Brook, Robbie Williams and Unicefs Soccer Aid, Duncan Banatyne, Vernon Kay, Pamela Anderson, Russell Howard, Alexander Burke, Harry Potter stars Tom Felton (Draco Malfoy), James and Oliver Phelps (The Weasley twins) and The MTV European Music Awards.

No matter what the event or occasion, from a private party to an International corporate event, Craig offers the same level of dedication and professionalism to all of his clients.

With his unique blend of mind reading skills and infectious personality, Craig will leave your guests minds completely blown away, performing miracles in their hands, leaving them asking, How the hell did he do that?

If you are looking for that professional, experienced and entertaining close up magician, then look no further, Craig James is the one for you!
Shortlist
---
Price Guide
For an approximate quote, please enter your postcode:
Previous Clients
Burj Al Arab, 7 Star Hotel, Dubai
Mina A Salam Hotel, Dubai
Regents Park, London
Cyfartha Castle, South Wales
The Imperial Hotel, Blackpool
Grosvenor Spa & Hotel, Chester
Marriott Hotel, Bexleyheath
Clumber Park Hotel, Derbyshire
The Clarendon Suites, Edgbaston
Aqua Sol Village, Cyprus
Ascos Coral Beach, Cyprus
Monsenor, Gran Canaria
Pride Park, Derby
Bush Hall, Hertfordshire
Rutland Square Hotel, Nottingham
Hodsock Priory, Blyth, Doncastor
Rufford Park Golf & Country Club
Maiyango Restaurant, Leicester
Misterton Grange, Leicester
Mytton Fold Hotel & Golf Club, Lancashire
Scarisbrick Hotel, Merseyside
Stanley House, Blackburn
Trafford Centre, Manchester
Oldham Athletic Football Club, Oldham
The Midland Hotel, Manchester
Game, Trafford Centre
Hilton Hotel, Leeds
Rudding Park, Rudding, Harrogate
Bryngarw House, Bryngarw Country Park, Bridgend
The Talk Nightclub, Norwich
Limes Bar & Restaurant, Derby
Rowton Castle, Shrewsbury
Ringwood Hall, Chesterfield
Kenwood Hall, Sheffield
The Embassy Club, London
Donny Osmond
Mark Owen, Take That
Rebecca Adlington, Olympic Double Gold Medallist
Mtv European Music Awards 2008
The Orient Express
Alexander O'neal
Simon Webbe, Blue
Brian Harvey, East 17
Liz Mcclarnon, Atomic Kitten
Lisa Scott Lee, Steps
Michelle Heaton, Liberty X
Andy Scott Lee
Nick Knowles, Tv Presenter
Ziggy And Charlie, Big Brother 8
Carlton Palmer, Bbc Sport
Nigel Walker, Ex Welsh International Rugby Player
Burj Al Arab, 7 Star Hotel, Dubai
Mina A Salam, Dubai
Sony
The Fa Cup
Airtours
British Telecom
Bbc
Bbc Wales
Bbc Radio Wales
Mcdonalds
Chicago Rock
Bmb Clothing
Tsokkos Hotels, Cyprus
Monsenor Hotel, Gran Canaria
Grosvenor Spa & Hotel
Mortgage Advice Bureau
International Personal Finance
Napit
The Pop Factory
Mansfield 103.2 Radio Station
Liberata
Marcos @ Milano Restaurant
Mansfields Party In The Park
Merthyr Tydfil Borough Council
Mansfield Town Football Club
Nigel Walker, Ex Welsh International Rugby Player
Game
Jems Events
Nintendo, Nintendo Wii, Super Mario Galaxy Game Launch
Oldham Athletic Football Club
Bbc Children In Need 2007
Hilton Hotel
Liverpool Echo Arena
Mortgage Advice Bureau
International Personal Finance
Scottish Power
Mfh Group
Countless Weddings, Birthdays Etc
And Many More!
Testimonials
"You've got to be kidding me?"
- Donny Osmond

"I don't believe it, that's my card!"
- Mark Owen, Take That

'Stunned silence...How did you do that?
- Rebecca Adlington, Olympic Double Gold Medallist

"Oh my God! ..Wow! ..that's good, that's good,..Oh my God! ...Wow! ...I aint never seen magic close up like this before!"
- Alexander O'Neal

"How did you do that?,..How did he do that?...No way man,..That was ace!..How did you do that?..That was cool!"
- Simon Webbe, Blue

"Many thanks for everything you did on Friday evening. It was excellent - everyone had a great time and thouroughly enjoyed your performance. I wish you well over the Christmas period and would not hesitate using you again at any parties or events."
- Mark Cotter, Group Managing director, BMB Group Ltd

"Craig, you were fab! you have a lovely personality, and are an amazing magician! Iwould highly reccommend you and definately hire you again."
- Anna Centritto, Mortgage Advice Bureau

"You are amazing!"
- Annika Rich, BMB Group

"The professional and friendly manner in which you built a rapour with our customers whilst performing your amazing magic was impecible. You will be a talking point for many years to come! Thanks to you our product launch was a success!"
- Mr & Mrs Smith, proprieters of Dreams & Drapes

"Craig, you were brilliant! The comments I have been receiving all morning are very good. I personally saw some of your tricks and was extremely impressed with the standard of magic performed. I will certainly recommend you to other business colleagues. The booking and follow up has been very smooth and organised."
- Kevin Foley, Proprioter McDonalds, Norwich

"Craig, just wanted to say a huge thank you, you are a lovely guy and a brilliant magician who went down a storm and had a really brilliant night. We look forward to working with you again in December at one of our other functions. Many thanks indeed!"
- Emily Willis, Events Director Jems Events

"Craig, we had a wonderful evening, you are a lovely fella' with a natural charm, your magic went down a treat and was a nice surprise for my guests, thankyou."
- Gill Brack, Liberata, Corporate event

"Thank you Craig, your magic was mindblowing!"
- Kimberley Louise, 21st birthday party

"We knew to hire a magician was a good idea, but we didn't realise what a fantastic impact you would have on our guests. My brother has not stopped talking about you, especially that trick you did with his ring!"
- Sarah & Carl Evans, Wedding reception

"Thank you so much for entertaining our wedding guests with your magic, it was mind blowing, and our guests loved you! You filled all the boring parts that all weddings have with fun and entertainment. I can not reccommend you enough, you were so professional and polite, Thank you."
- Mrs Carrie Hicks, Bride, Wedding Entertainment

"Craig, our sincere thanks , as you entertained Gloria, myself and our guests, which ranged from young children to the more matured. You were great fun and very professional. You were the sole topic of conversation all evening! Thanks again for making our Ruby anniversary a magical event."
- Brian & Gloria Freeman, Ruby Anniversary

"Well what can I say! Tea at the Ritz for ladies who Lunch with a fantastic magician, who entertained us for 2 hours was just fabulous. Thanks so much for amazing us all, we are all still trying to work out how you did it,and I am sure youll be a talking point at our lunches for a long time. Hope to see you again at some future event."
- Helen Severn, Private party

"...You were a major influence on my friend, he always talked about your magic, he would always say that he wanted to be a magician and would show us all his acts on talent shows and your name always popped up."
- Natasha Pardy, Waterstones, Customer Services

"Craig James was a great Entertainer at our Wedding, his tricks were brilliant and he got lots of applause and some cheers, he was also very friendly. I am glad we booked him. We would recommend him to other people."
- Ben and Sarah

"Craig, a huge thank you to you for the outstanding time we shared with you at Anne's 40th birthday party.We hoped you would add to the enjoyment - but everyone is saying how you made the evening so special. They are still trying to work out how you managed to amaze with your skills and magic - you were brilliant!We shall definitely arrange to invite you again - as soon as we have an excuse!Best wishes and again, a huge thank you."
- Steve Batty, 40th Birthday party

"I have witnessed several close up magicians before, but I must say you have surpassed them all, you are unparalleled!"
- John Harris, Wedding guest, Southport

"You should be burned at the stake!"
- Guest at private party, Carlisle

"I was watching your hands the whole time!"
- Guest at product launch

"Craig, What a star! Thanks for making my sons wedding so magical and memorable. We had such a laugh and everyone said they enjoyed it! Ho did you do that coin trick? It had us all amazed! Than you so much."
- Babs, Mother of groom, Wedding reception, Nottingham

"Craig, We just wanted to say a big THANK YOU, you attended our wedding on the 25th July and entertained our guests whilst we where having our pictures taken. You easily managed to get all our guests mouths wide open in shock and amazement following your tricks! You are what/who all our guests talked about the most when telling us how much they enjoyed our wedding day. One guest kept threatening to ring you up and get you back for the rest of the evening...no matter what the cost! We will definitely be recommending you to our friends, as you did such a fab job at putting big smiles on our guests faces. We wish you all the luck for the future."
- Beverley Wolfe, Bride, Wedding reception, Hertfordshire

Craig James Review

Last Saturday the 11th of June we were celebrating multiple birthdays but primarily my mother in laws 80th at the Weston Hall Hotel at Bulkington, Coventry.

When my wife informed me she had booked a magician for the event I was extremely sceptical and thought that it would be an excuse to leave the room for a cigarette.

How wrong I was, from the beginning Craig had me rooted to my seat.

His banter and his tricks had everybody spell bound, the tricks were awe inspiring and his chat highly amusing. The whole party were thoroughly entertained.

After his performance was over, he was the talk of the night, everybody was trying to figure out how he had worked his magic and all full of praise for his performance.

All 26 guests of a wide age range were totally delighted.

I would thoroughly recommend Craig as extremely good value and give him a 5+ Gold Star rating.

Norman Brown
Set Formats
Craig James Offers:

Up To 2 Hours Of Mix & Mingle Magic