Outrageous 8 Piece Disco Band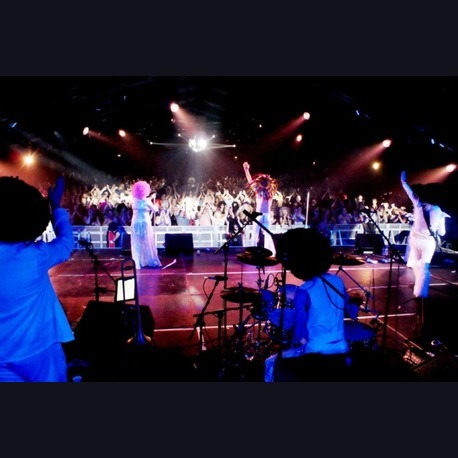 Boogie Wonderland
Carwash
Pick Up The Pieces
The UKs number 1 live disco band Butlins 2007 the single most ridiculous purveyors of funk, disco and the grooviest soul the UK has ever seen! the Sunday people Uncle Funk are your dream ticket to the success of your party, wedding or corporate event.

Their musical perfection is matched with their outrageous costumes, slick dance moves and energetic show that will put smiles on faces and keep feet firmly on the dance floor. Uncle Funk play a winning set of disco classics think "The Greatest Hits Of Disco Part 1" and you have an idea! Every song in the set has been chosen with the dance floor in mind nothing indulgent, nothing obscure, just the hits.

Regularly booked for huge events (festivals, carnival events, Butlin's
main stage) Uncle Funk have the experience, showmanship and musical dexterity to guarantee your guests are on the dance floor all night having the time of their lives!
Shortlist
---
Price Guide
For an approximate quote, please enter your postcode:
Song List
Boogie Nights
Get Down Tonight
Jungle Boogie
Carwash
Build Me Up Buttercup
Ymca
Lets Groove Tonight
Disco Inferno
Hot Stuff
Get Down On It
Oops Upside Your Head
Good Times
Rappers Delight
Lady Marmalade
Le Freak
Ain't No Stopping Us Now
That's The Way (i Like It)
You Can Do It
Ladies Night
Celebration
Do What You Wanna Do
Eye To Eye Contact
Feel The Force
Its Raining Men
Play That Funky Music
Upside Down
Word Up
We Are Family
I Will Survive
Groove Is In The Heart
Shake Your Body Down To The Ground
Dancing Queen
Stayin Alive
Night Fever
Boogie Wonderland
You Should Be Dancing
Blame It On The Boogie
Move On Up
And Many More!
Previous Clients
Shell
Bp
Play.com
Butlins
Ppp Healthcare
Bbc
United Biscuits
Cambridge University
Bt
Smithklein Beecham
Record Collector
Express Newspapers
Target Publishing
And Many More!
Testimonials
"The UK's number 1 disco tribute band"
- Butlins

"Look out George Clinton, Uncle Funk is a collection of badass musical mothafunkers who will not only tear the roof off the sucker but will stoke up the disco inferno until they reach glitter ball meltdown. One helluva band!"
- Charles Waring, MOJO Blues & Soul, Record Collector

"Uncle Funk are quite simply funking brilliant"
- Joel McIver, Record Collector Magazine and author

"Uncle Funk is the daddy of all tribute bands. If you're looking for the authentic 70s experience with tongues firmly in cheeks and tunes firmly in funk, call the men from Uncle"
- Chris Goodman, The Sunday Express

"A mighty afro deity to whom we should all bow down and worship"
- Terry Staunton, Record Collector

"look Out George Clinton - Boogie Wonderband Is A Collection Of Badass Musical Muthafunkers Who Will Not Only Tear The Roof Off The Sucker But Will Stoke Up The Disco Inferno Until They Reach Glitter Ball Meltdown. One Helluva Band!"
- Charles Waring - Mojo, Blues & Soul, Record Collector.

Just A Quick Note To Say Thanks To You And The Band For A Really Fantastic Night On Friday. I Think You Could See That Everyone Had A Great Time. I Had A Look Around During The Last Song And Everyone In The Room Was On The Dance Floor, It Was Magic! I'll Certainly Keep A Look Out For You In Stortford Or Harlow And Will Drag Some Friends Along. Boogie Wonderband Are A Truly Wonderful Band, I Wish You Every Success For The Future.
- Jane Wakelin Glaxosmithklein

It Was An Absolutely Fab Night And I Can't Thank You Guys Enough. Thanks Again For A Truly Amazing Performance.
- Claire O Neill American Express

boogie Wonderband Are Quite Simply Funking Brilliant
Joel Mciver, Record Collector Magazine And Author

"boogie Wonderband Are The Daddy Of All Tribute Bands. If You ' Re Looking For The Authentic 70s Disco Experience. With Tongues Firmly In Cheeks And Tunes Firmly In Funk, Call The Men From Uncle!!."
Chris Goodman , The Sunday Express

An Awesome Band! The Best We've Ever Had! Thank You!!
- Nigel Caulston (ibm Uk)

"a Mighty Afro Deity To Whom We Should All Bow Down And Worship."
Terry Staunton, Record Collector

boogie Wonderband Strip It All Down, Shake It Up And Shove It On Stage With Camp Attitude And Tongues In Cheeks. The Thirsty Audience Lap It Up
- Steve Farrar, The Observer

We'd Heard You Were Good But We Had No Idea You Were That Good!! Awesome!! You Rocked The Party!!
- Clive Clark Shell Uk

We Have Been Playing Boogie Wonderband's Recording Of Move On Up At The Big Caister Soul Weekenders. People Have Been Going Mental Over It And Had The Dance Floor Melting, With Hardcore Soul Fans Demanding To Know Who Is Playing It And Where They Can Buy It!!
- Dj Dave Burton Big Caister Soul Weekender

Boogie Wonderband Are The Most Exciting Live Disco Experience In The Country. Hands Down, No Fooling, Not Bragging, Its Just A Simple Fact. People Rave About This Band! Theyre An Exhausting, Exhilarating Roller Coaster Ride Through The Most Glamorous And Sexiest Eras Of Music. Boogie Wonderband Take Full Advantage And Dress To Outrageous Excess
- Herts And Essex Music-zine Magazine.

"if You Book A Disco Band For Any Event This Year, Make Sure It's Boogie Wonderband"
- Pete Loveday Eagle Radio

" Boogie Wonderband Rounded Off A Great Day With A Couple Of Hours Of Rousing Music That Had Everyone On The Dance Floor Showing Why We Sell Biscuits Rather Than Appear On Come Dancing!"
- Richard - United Biscuits

Just A Quick Note To Say A Huge Thank You To You And The Rest Of Boogie Wonderband For A Great Night On Saturday. I Wanted Everyone To Remember My Year As Captain And I Knew It Would Never Be For My Skill On The Golf Course. Thankfully They Will Be Talking About Last Saturday For Many Years To Come! Marvelous!
- Barry Thurston, Bishops Stortford Golf Club

"everyone Had A Fantastic Time, And You Wouldn't Believe The Feed Back I've Had About Your Band. We Were All Very Impressed And You Really Did Make The Party....10 Out Of 10 Mate. Thanks Again Simon And I Hope To See You All Again Soon. P.s Don't Be Surprised If You Get A Few Bookings On The Back Of It.....absolute Quality !!!!"
- Ian Hope Ppp Health Inc.

"thanks For Playing At The Festival Again. I Can Safely Say That You Were The Highlight Of The Day And Everyone's Favourite! Hope To See You Again Next Year!"
- Clare Filby Events Manager, Ware Council

"after The First Few Chords The Floor Was Alive With 70's Retro Cladded Party Goers. The Songs Were Fantastic, The Band Musicians Excellent And The Lead Singers In The Groove. The Band Appeared To Be Having As Good Time As The Party Goers. Everyone Has Been Talking About How Great The Party Was For Weeks, And In Particular Boogie Wonderband. Even The Gig-die Hards Said "what An Amazing Band". If You Want A Special Night Call On Boogie Wonderband, They Are Worth Every Penny! Rebecca Harrison 40th Birthday Party
I Wanted Our Dream Day To Be Perfect - Boogie Wonderband Were The Perfect Choice. You Were The Maddest, Most Entertaining Band I Have Ever Seen! Thank You Thank You Thank You!!!
- C.l Thornton Wedding

Saturday Night's Gig At The Square Was Just Brilliant !! Excellent Sound, Excellent Lights, The Band Looked Great And Were Really Steaming, Brilliant Arrangements, Excellent Audience, Fantastic Atmosphere, - The Best Boogie Wonderband Gig I've Seen. More Public Gigs Please !
- Mike Anderson

What A Gig!!! Saturday Night Was Bloody Fantastic! Everything About That Night Was Simply Amazing! Truly Legendry Performance! Come Back To The Square Soon!!!
- Lee Mccartney

You Were Excellent! Everyone Thoroughly Enjoyed Themselves Dancing The Night Away!!
- David Althorp - Althorp House

After Enjoying Myself So Thoroughly At My Brothers Wedding Where You Played So Brilliantly, Please Put Me On Your Mail List So I Can See If You're Ever Going To Be Playing Our Way Again. That Was One Hell Of A Night!! Thanks Loads
- Sally - Wedding

On Behalf Of The Entire People Present At My Wedding I Would Like To Thank You And Your Band For Your Heartwarming, Butt Moving, Foot Tapping, Granny Spinning, Hip Gyrating Fantastic Contribution To The Day. I Didn't Think It Was Possible To Enjoy A Band At A Wedding So Much. I Thought You Were Great And So Did Everybody Else.
- Stella Robson - Wedding

I Just Wanted To Say Thanks Very Much For A Great Evening - Nobody Is Going To Forget Our Wedding In A Hurry (or Your Fluffy G-string!)
- Nicola Griggs Wedding

Just Wanted To Say A Huge Thank-you For Such A Great Night - The Atmosphere Rocked, The Band Was Ace & The Dancing Was Truly Rare. Everyone At Burrows Has Said What A Great Time They Had - The Dancefloor Was Heaving All Night & At One Point I Funked So Hard That My Wig Flew Off!
- Kerry Bennet - Burrows

You Guys Seriously Rocked The Place On Saturday, I've Had No End Of Texts, Phone Calls And People Saying How Amazing You All Were!
- Simon Legge 30th Birthday

We Would Like To Thank You All For A Truly Fabulous Evening Of Entertainment At Our Wedding Reception On 2nd June 2007 In Sussex. As Expected You Had
Everyone Up And Dancing From The First Note Played Until You Left The Stage. Everyone Who Came Has Commented On How Fantastic You All Were!
- Ali & Jo Darge Wedding

Just Wanted To Thank You For Performing So Brilliantly The Other Weekend. I've Had No End Of People Come Up And Compliment Me On The Band!
- Ben Meyer 30th Birthday Party

"after The First Few Chords The Floor Was Alive With 70's Retro Cladded Party Goers. The Songs Were Fantastic, The Band Musicians Excellent And The Lead Singers In The Groove. The Band Appeared To Be Having As Good Time As The Party Goers. Everyone Has Been Talking About How Great The Party Was For Weeks, And In Particular Boogie Wonderband. Even The Gig-die Hards Said "what An Amazing Band". If You Want A Special Night Call On Boogie Wonderband, They Are Worth Every Penny!
- Rebecca Harrison 40th Birthday Party

Just Returned From Our Honeymoon And Wanted To Say A Massive Thank You For The Fantastic Music You And Your Band Provided On Our Wedding Day, You Were All Simply Brilliant!!! Everyone Has Been Talking About It For The Past Three Weeks And For Us It Simply Was The Icing On The Cake, What A Way To Finish A Wedding!! I Am Now Trying To Find Any Excuse To Book You Again As I Want Another Party, And Don't Be Surprised If You Get New Enquiries From People At The Wedding As I Have Had To Pass On Your Details To A Few. Please Make Sure You Pass On Our Thanks To Your Band And Keep On Playing Because Your Act Is Faultless. From A Very Happy Customer, Thank You!!!
- Rob And Debbie Wedding

Just A Quick Note To Say A Huge Thank You To You And The Rest Of Boogie Wonderband For A Great Night On Saturday. I Wanted Everyone To Remember My Year As Captain And I Knew It Would Never Be For My Skill On The Golf Course. Thankfully They Will Be Talking About Last Saturday For Many Years To Come! Marvelous!
- Barry T Bishops Stortford Golf Club
Set Formats
Uncle Funk Offers:

2 x 60 Minute Sets