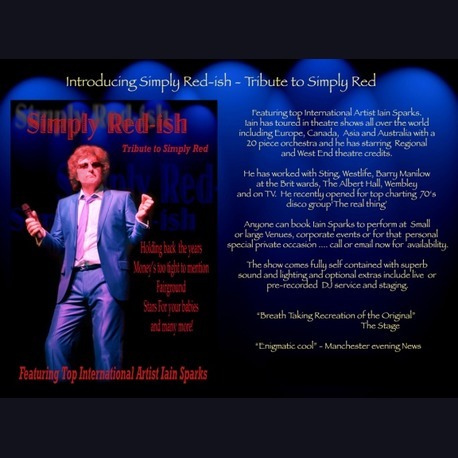 Stars
Holding Back The Years
For Your Babies
Iain sparks is a truly international artist with tours of Australia, Canada, Europe and the Middle East, with Starring Regional & West End Theatre credits to his name. Iain began his singing career performing backing vocals for Barry Manilow (Albert Hall & Wembley Arena) and Sting at the Brit awards.

Hes also performed with Westlife on TV, sharing the bill with Boy George, Lemar, Katie Melua and others.

Iain launched his Simply Red Tribute in 2011 `Simply Red-ish and has always been an avid follower of Simply Red and Mick Hucknall and this is so different to everything else Iain does that it highlights what an amazingly gifted and versatile singer he is performing difficult vocals covering Stars holding back the years and moneys too tight to mention effortlessly with ease.

Iain has worked for top west end production companies including E&B productions (Buddy! - West End) on several UK tours and West End Theatres.

In 2005 Iain played Perth, Australia with his other shows, backed by a 20 piece orchestra and also Canada, so his credentials as an international artist are impressive to say the least. Hes toured Europe & the UK with a variety of different theatre shows.

Simply Red-ish is a tribute to the genius of Mick Hucknall and Simply Red bringing you all the hits from the fabulous Simply Red including Holding back the years - Stars, For your babies - Fairground and Moneys too tight to mention and many more performed for you by one of the UKs top International vocalists Iain Sparks.

Iain performed as a backing vocalist as part of a vocal harmony group with David & Carrie Grant(Lynx) for Sting at the Brit awards. More recently he featured with West Life on BBC1 (Duets impossible).

The fully self contained show currently comprises of one 60 minute minute set. Included in the package is an optional covers spot (45mins ) of soul/R&B covers and superb state of the art RCF sound reinforcement & lights other options include pre-recorded disco show or DJ service.
Breath Taking Recreation of the Original!
Shortlist
---
Price Guide
For an approximate quote, please enter your postcode:
Song List
Stars
Fairground
Sunrise
If You Dont Know Me By Now
Aint That A Lot Of Love
Do The Right Thing
For Your Babies
Something Got Me Started
Holding Back The Years
Moneys Too Tight To Mention
Sad Old Red
New Flame
Say You Love Me
Come To My Aid
Valerie
Cry To Me
Stand By Me
My Girl
Brown Eyed Girl
Mustang Sally
Midnight Hour
Here Comes The Night
It Must Be Love
Supersticious
Olivers Army
Pricetag
Sail Away With Me
Mr Pitiful
Take Me To The River
A Change Is Gonna Come
Moondance
Candy
Magnetised
And Many More!
Previous Clients
Greg Dykeaspers Casinos
Parkdean Holidays
P&o Cruises
Warner
Aviva Insurance
Haven Holidays
Bbc1
E&b Productions (paul Elliot West End)
William Bartholemew
Itvdavid Loydd
Fitness First Teddington
La Charrue (france)
Brookhampton Vineyard (australia)
The British Club (abu Dahbi)
The Jumeria Beach Resort (dubai)
Rock And Roll Club Of Great Britainthe 3 Horse Shoes, Sheppertonmort's Wine Bar Walton On Thames (3 Yr Residency)
The Conservative Club, Walton Comrades Club, Walton Wmc - Walton On Thamesthe Jolly Farmer, The Percy Lambert, The Prince Of Wales, Sullivans, The Cons Club, Oatlands Park Hotel The Alexander - Weybridge
The Bee, Burnhamthe Feathers Laleham
Battersea Wmc
Hanworth Wmc
Cricklewood Trade Hall
Newbury Cons Club
King William, West Horsely
The George, W.malling Gc - West Malling
Billinge Chapel Lab Club
E Barnet Rbl
The Misty Moon, Bethnal Green
And Many More!
Testamonials
Enigmatic Cool
- The Stage

Excellent song with superb vocals
- Manchester Evening News

Simply Superb
- Pathfinder Magazine, Greg Dyke
Set Formats
Simply Red-ish Offers:

1 x 60 Minute Set
Or

1 x 45 Minute Of Simply Red
&
1 x 45 Minute Set Of Mixed Covers