Quality Children's entertainer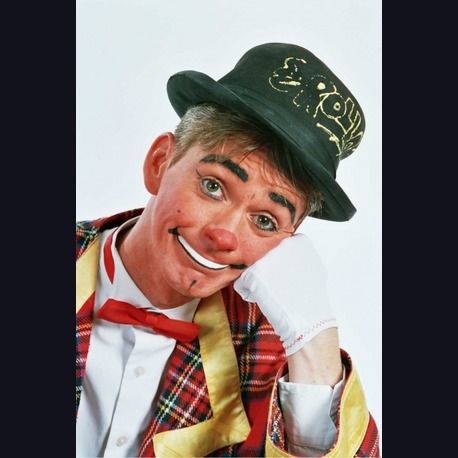 Rollo has developed a childrens cabaret which has been popular at hundreds of venues throughout the U.K.

Rollos special blend of childrens magic and comedy has been a hit with so many childrens events, fetes, parties, hotels and schools.

He has for the past 8 years been the childrens entertainer for Norfolk County Council museums service.

His corporate clients are far to numerous to list but include, Norwich City Football club, Porvair Ltd., Trago Mills, Roys of Wroxham, John Lewis, Adnams Brewery, Bristol Exhibition centre Pontins, Haven, Park resorts, and Great Yarmouth Pleasure Beach.

Rollo is immensely popular wherever he goes, especially at Searles leisure, Hunstanton where he performed his childrens shows, comedy and wrote and appeared in the summer mini pantomimes for 14 seasons.

Whether a theatre or village hall, Rollo performs with the utmost professionalism and is held in high regards. So much so that in 2007 he was elected a member of the exclusive show business fraternity the Grand Order of Water Rats, taking the title of baby Rat from Iron Maiden drummer Nico Mcbrain.
He was recently elected as an officer of this grand old order.
Shortlist
---
Price Guide
For an approximate quote, please enter your postcode:
Previous Clients
Adnams Brewery Suffolk.
Blue Bell Primary School Norwich
Brittany Ferries
Coastfields Holiday Park, Skegness
Creake Abby Studios Norfolk
G.n.e.r. Club Camb's
Haven Holidays
Hammond Productions
Heacham Infant School
Heacham Junior School
Highways Nurseries Norwich
John Lewis
Norfolk Museums Services
Norwich City Football Club
P&o Cruises
Potters Leisure
Pontins
Roys Of Wroxham
Seacroft Holiday Park Cromer
Searles Leisure Resort
Thursford Enterprises
And Many More!
Testimonials
Rollo is without a doubt one of the countries most talented Childrens Entertainers I have come across. A superb rapport with children and adults alike, Rollo always delivers!
- Coastfields Leisure Ltd - Entertainments Manager

Rollo worked in the Childrens Fantasy Land at Thursford Collection during November and December 2008. Rollo was employed to undertake half hour stage shows aimed at entertaining the children and also to undertake close up magic for the children when they were waiting to visit Father Christmas or queuing to enter the animated area. The work was nonstop on all the busy days during the season and Rollo was a great member of our cast. He undertook all his duties in a professional and appealing way and was a tremendous hit with both the children and the adults. His look, manner and of course his magic made him a great and enjoyable act both on stage and in the close up magic. We would have no hesitation in recommending him as a childrens entertainer and magician and very much hope he will be able to join our cast in this attraction this year and for many years to come.
- Geraldine Rye, General Manager,
Thursford Collection,

Rollo has always put on a wonderful performance whether it be a 'Punch & Judy Show' watched by awestruck infants, a circus skills workshop where all pupis (and staff) can have a go at the 'Big Top' tricks or a fully blown pantomine in our own hall (Oh yes he did!). I can heartily recommend this company to any schools wishing to bring the world of theatre into their own school.
- Nicky Darley Headteacher of Heacham Junior School Norfolk.
Set Formats
Rollo can perform a 45 minute children's cabaret spot of magic.
Or a full two hours of magic, punch & Judy and games suitable for children's parties.

Rollo can build his set times around each clients individual needs.
Or
2 x 60 Min Sets of Games and Party Fun!