Rat Pack To Rock 'n' Roll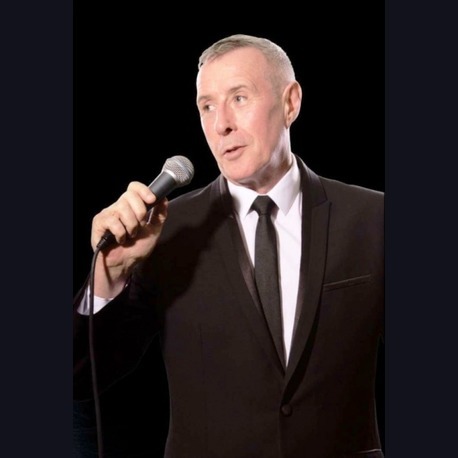 Blueberry Hill
Mack The Knife
Twist & Shout
Paul has been a professional entertainer for over 20 years, and has proven a reliable and professional act.

Specialising in music from the Rat Pack to 50s & 60s Rock n Roll (with a little bit of 70s & 80s music thrown in) Pauls repertoire and stage presence has made him very popular not only for Black Tie Events but also Weddings and Corporate Functions.

A seasoned performer, his ability to deliver a song with style (whether it is Swing or Rock n Roll), is second to none. He has an easy and friendly manner with an audience,this coupled with a great sense of humour has ensures that the evening is relaxed & enjoyable.

Paul prides himself in being able to tailor and act for his audience and feels that this helps ensure an enjoyable evening. He is a polished and professional performer who will not disappoint, so if you have any special requests, just ask.

Using professional PA system and lighting, the overall presentation is first class, and ensures an evening of entertainment and fun.

For fans of Dean Martin Paul has a special 1 hour tribute to one of the finest performers to grace the stage in Las Vegas.
Shortlist
---
Price Guide
For an approximate quote, please enter your postcode:
Song List
Achey,breaky Heart Billy Ray Cyrus
Aint That Kick In The Head- Dean Martin
Ain't It Funny How Time Slips Away - Willie Nelson
Ain't That A Shame Fats Domino
Are You Lonesome Tonight Elvis Presley
Baby I Don't Care - Buddy Holly
Batchelor Boy - Cliff Richard
Blue Monday- Fats Domino
Blueberry Hill Fats Domino
Born Free Matt Munro
Cant Get Used To Loosing You Andy Williams
Candy Man - Sammy Davis Jr
Can't Take My Eyes Off You - Andy Williams
Cest Le Vie (you Never Can Tell) Chuck Berry
Chantilly Lace - The Big Bopper
Chicago Frank Sinatra
Come Dance With Me Frank Sinatra
Come Fly With Me Frank Sinatra
Comeback My Love - The Darts
Cracklin Rosie - Neil Diamond
Crazy - Patsy Cline
Dance The Night Away The Mavericks
Devil In Disguise - Elvis Presley
Dont Go Changin Barry White
Don't - Elvis Presley
Dream A Little Dream Of Me Michael Buble
Dream Lover - Bobby Darrin
Drive Me Crazy Shakin Stevens
Everybody Loves Somebody Sometime Dean Martin
Everything- Michael Buble
Fever Michael Buble
Flip - Flop - Fly - The Blues Bros
Fly Me To The Moon Frank Sinatra
Fool Such As I Elvis Presley
For Once In My Life Frank Sinatra
Funny How Time Slips Away - Willie Nelson
Gentle On My Mind Dean Martin
Getting In The Mood - Brian Selzer
Girl From Ipanema Frank Sinatra
Girl Of My Best Friend - Elvis Presley
Great Balls Of Fire Jerry Lee Lewis
Green Door Shakin Stevens
Halfway To Paradise Billy Fury
Happy Birthday Sweet 16 Neil Sedaka
He'll Have To Go - Jim Reeves
Here Comes My Baby - Dean Martin
Hound Dog Elvis Presley
How About You Frank Sinatra
How Wonderful You Are - Gordon Haskell
I Don't Know Why I Love You , But I Do Clarence Henry
I Got My Love To Keep - Dean Martin
I Got The World On A String - Frank Sinatra
I Think I Love You - David Cassidy
I Won't Dance Frank Sinatra
I Won't Stay In A World Without Love - The Mavericks
I'm A Believer The Monkees
Is This The Way To Amarillo - Tony Christie
Its Late Shakin Stevens
It's My Party Bryan Ferry
Just Bummin Around - Dean Martin
King Of The Road Dean Martin
Lady Is A Tramp Frank Sinatra
Leroy Brown- Frank Sinatra
Let's Stick Together - Bryan Ferry
Lil Ole Wine Drinker Me Dean Martin
Livin Doll Cliff Richard
Love Is The Drug Bryan Ferry
Love On The Rocks Neil Diamond
Lucky Lips Cliff Richard
Mack The Knife Bobby Darrin
Mambo No5 - Lou Bega
Memories Are Made Of This -dean Martin
Minne The Moocher Cab Calloway
Mr Bojangles - Robbie Williams
Multiplication- Bobby Darrin
My Kind Of Girl- Matt Munro
My Way Frank Sinatra
New York,new York Frank Sinatra
One For My Baby Frank Sinatra
Please Be Kind Frank Sinatra
Please Don't Talk About Me , When I'm Gone - Dean Martin
Pretty Woman Roy Orbison
Raining In My Heart - Buddy Holly
Save The Last Dance For Me Michael Buble
Send Me The Pillow Dean Martin
Sex Bomb- Tom Jones
She - Charles Aznavour
She's Out Of My Life - Michael Jackson
Singing The Blues Guy Mitchell
Such A Night Elvis Presley
Summer Holiday - Cliff Richard
Sway Dean Martin
Sweet Gypsie Rose - Tony Orlando
Taking A Chance On Love - Frank Sinatra
Teddy Bear - Elvis Presley
That'll Be The Day Buddy Holly
That's Amore Dean Martin
That's Life- Frank Sinatra
The Door Is Still Open To My Heart -dean Martin
The Green Green Grass Of Home - Tom Jones
The Lady Is A Tramp -frank Sinatra
The Wanderer - Dion
The Wonder Of You Elvis Presley
This Ole House Shakin Stevens
This Thing Called Love- Michael Buble
Three Steps To Heaven Buddy Hollie
Tie A Yellow Ribbon Tony Orlando
Till There Was You The Beatles
Travellin Light Cliff Richard
Treat Me Nice Elvis Presley
Up The Lazy River Bobby Darrin
Volare - Dean Martin
What A Wonderful World Michael Buble
What Do You Wanna Make Those Eyes At Me For Emile Ford
What Kind Of Fool Am I - Sammy Davis Jr
World On A String Frank Sinatra
You Dont Have To Say You Love Me - Elvis Presley
You Drive Me Crazy - Shakin Stevens
You Got It - Roy Orbison
You Make Me Feel So Young- Frank Sinatra
You Took Advantage Of Me Frank Sinatra
You Were Always On My Mind- Willie Nelson
Youll Never Walk Alone Gerry & The Pacemakers
Youre The Devil In Disguise - Elvis Presley
Your 16 Johnny Burnette
Your Nobody Till Somebody Loves You - Dean Martin
And Many More
Previous Clients
Bt ( Corporate Event London)
Espom Race Course (queens Stand)
Reading Casino
London Masonic Centre (west End , London)
Connought Rooms ( London West End)
National Trust ( Saville Row, London)
Barcelo Hotel ( Hampshire)
Surbiton Masonic Centre
The Jazz Room ( Hastings)
Basingstoke Country Hotel
Ba (corporate Event)
Premium Credit (corporate Event)
Ultra Furniture (corporate Event)
J.t.c ( Corporate Event)
And Many More!
Testimonials
my organisation has used Paul on so many occasions, I have lost count. He is a first class vocalist & entertainer...highy reccommended
- John Banks, CEO - Wellmans Int

Superb
- Jane Law - BT

Thanks Paul, you made a good party GREAT.
- Wendy Vickery

Hi Paul, I would like to thank you for entertaining us last Friday and as on all the other occasions, you did us proud. Your range of songs (Rat Pack to Rock and Roll) together with your participation with your audience is such a success that you always make my events a hit, so much so, that I am regularly asked for you to come back. I am looking forward to your annual visit on Saturday (again by special request of the guests) to sing at the Hog Roast in the gardens of the House.
- John Banks Chairman J.T.C

Dear Paul, Just to thank you once again for a wonderful show, your choice of music was faultless. I have had so many e mails from people who attended the event saying how much they enjoyed the evening & especially your performance, our overseas guests were particularly impressed, many thanks
- Debbie Wood

Paul, Thank you , thank you thank you, as always a polished & relaxed performance, the Rat Pack slot was truly sensational
- Adam Lester

Hi Paul, Wonderful as always, but thats what we have come to expect from you. Thank you for performing the special song (especially at such short notice) for our guest of honour, she was delighted.
- Sue

Dear Paul, Good to talk to you yesterday, more than happy to provide you with a testimonial for prospective clients. I have hired Paul on several occasions; he is professional, reliable & consistent in the quality of his act. I have always been particularly impressed with Pauls vocal ability, his interaction with the audience, and his willingness to chat to people afterwards. His warmth & humour is a nice touch when he chats to the audience between songs. Cant recommend him highly enough
- Paul Henderson

Paul, Just to say a big thank you for your wonderful contribution to our wedding celebrations, the songs you chose from Rat Pack to 50s & 60s Rock & Roll was just the right mix for the different age groups we had at the reception. I know you have already had booking from some of the people who attended; they are very excited about having you sing at their events. Good luck for the future
- Craig & Gemma

Dear Paul, Just to say how delighted we all were with your performance at our daughters wedding, also a special thank you for agreeing to travel to Guernsey & making the wedding reception & joint New Year celebrations go with a swing
- Jaqui & Steve

Please thank Paul for a great night at such short notice.
The pensioners loved him , would highly recommend him to anyone.
Thanks again
Kim Jones
Berinsfield Social Club

Hi
Paul was absolutely brilliant - one of the best acts we have had here (I've been organising them for 13 years)!!
Many thanks
Sue Barlow
The Friends of Staines Riverside Centre
Set Format
Paul Martin Offers:

1 x 60 Minute Set
Or
2 x 60 Minute Sets