Kings Of Leon Tribute Act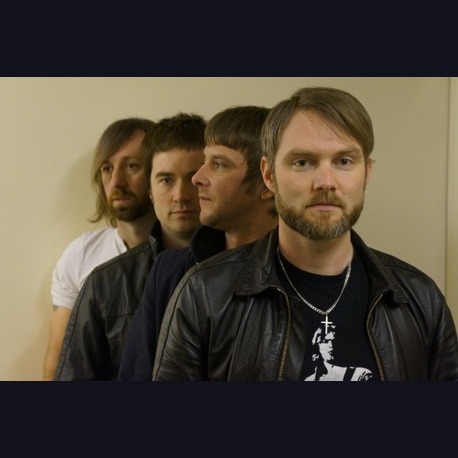 Radioactive
Sex On Fire
Back Down South
Kings of Lyon exploded onto the scene at the beginning of 2009 and have been propelled to the top of the tribute ladder with panache and a youthful vibrancy that secured them an O2 Academy headline tour, a European Spring tour, a string of festival dates throughout Europe and the UK and sell-out shows in the country's foremost music venues from Ireland to the Channel Islands along with high accolade in Q Magazine and a massive UK following.

Kings of Lyon play the perfect KOL show. They have an astounding live set incorporating all of the fans' favourites from 'Youth and young Manhood' to KOL's latest chart success, 'Mechanical Bull'. 2010 saw the band rise from a fine tribute with a hugely well respected emerging reputation to become the most sought after tribute of the year; stunningly faithful in every aspect from an inseparable appearance to their gut wrenching, soaring stadium sound.

The four musicians who make up Kings of Lyon are no stranger to success in the music industry, having played together for over twelve years in various successful projects. Kings Of Lyon has performed throughout the Europe for various events and functions; weddings, universities, private parties, ticket only public venues, open air festivals and corporate functions.

The members of the band received their first television exposure when they were crowned 'Global Icon winners 2008'. Global Icon was an online competition sponsored by Sky Television' which featured thousands of bands from Europe and gave exposure to the bands original writing project, The Riffs. The competition, which was filmed and recorded in Manchester, lead to a university tour and the chance to work with the industrys top producers; all adding to the bands wealth of experience. Kings Of Lyon have since been privileged to be featured on several UK and Dutch television shows.

What makes Kings of Lyon so special is that they have a wealth of experience though still young; they have a great sound, which they have worked on for years, and are fortunate to have the look as well with an exciting 95 minute live set encompassing all the hits and fans favourites from Kings of Leons six studio albums.

Kings of Lyon are the most astounding, vibrant tribute to Kings of Leon, playing an inspired and often surprising collection of Kings of Leon tracks with an energy and quality which, has already gained them a massive, enviable reputation.

The band play an untouchable, exciting 90 minute live set encompassing all the hits and fans favourites from Kings of Leons last six albums.
Shortlist
---
Price Guide
For an approximate quote, please enter your postcode:
Song List
Get Off My Cloud
Honky Tonk Women
Beast Of Burden
Under My Thumb
Can't Always Get What You Want
Brown Sugar
Beatles,
Day Tripper
Come Together
Tax Man
Just Seventeen
One After Nine
The Who,
Substitute
The Seeker
My Generation
Can't Explain
The Kinks,
All Day And All Of The Night
You Really Got Me
Til The End Of The Day
Lazy Sunny Afternoon
Oasis,
Rock N Roll Star
Some Might Say
Importance Of Being Idle
Champagne Supernova
Kings Of Lyon,
Sex On Fire
Bucket
Fans
Use Somebody
On Call
Molly's Chambers
Roll Over Beethoven
Bad Moon Arising
High Heel Sneekers
Ain't That A Lot Love
Take Me Out
Fall To Pieces
I Predict A Riot
Alright Now
Hold Back The River
All Or Nothing
Dreaming Of You
Sally Cinnamon
I Wanna Be Adored
Riverboat Song
Day We Caught The Train
L.a Women
Wish You Here
Need You Love
Teenage Kicks
I Fought The Law
And Many More!
Previous Clients
Leeds Cockpit
Infernos
Glatonferry
Concorde2 Brighton
Bar Bliss
Silloh Festival
Concorde Club
Newt Festival
Southport Rocks
Hull University
Fake Festival
Tour hedon
Netherlands
Hertfordshire University
The Walkabout Bar Chain
De Pul Netherlands
York St. Johns University
Chicago Rock Bar Chain
De Nieuwe Netherlands
Belfast Empire Music Hall
Beachcomber
The Sands
The Horn
Barbados Guernsey
Rosie Ogradys
Rescue Rooms
The Dog House
Guernsey o Neills
Bellinis Newry
Chambers Jersey
Nirwana Tuinfeest
Portrush Play House
Butlins
The Square
Ku Bar
Kico Club
Monroes
The Standard
Sin City
Jacks
Apartment
The Bitter End
Middlesbrough Empire
Club V
Revolver
Flowerpot
Club Quattroz
Hark To Towler
Assembly Rooms
Millom The Dirty Dozen
The Diamond
Independent
The Nines
Inside Out
Lancastrian Suite
The Three Sisters
Robin2
The Globe
The Office
Middlesrough Arena
The Crew And Queens Hall
Stereo Funk Festival
Blackpool Empress Ballroom
Great Yarmouth Races
Southend Festival
And Many More!
Testimonials
"We're booking them up for the year while we can. They totally set the place on fire and people are still talking about their first gig here. Amazing band."
- Charlie, Rehab, Harrogate

"It was our launch night and the band sold the place out. It was an incredible night with poeple queuing round the block until ten past eleven to get in. I think people thought they were the real deal when they saw them... everyone was filming on phones and singing as loud as they could. It was an amazing night. They were fantastic."
- Howard, The Tower Nightclub, Hull
Set Formats
Kings Of Lyon Offer:

1 x 90 Minute Set
Or
2 x 45 Minute Sets

The band have their own transport and will travel to anywhere in the UK and Europe