Rock/Pop & Indie Cover Band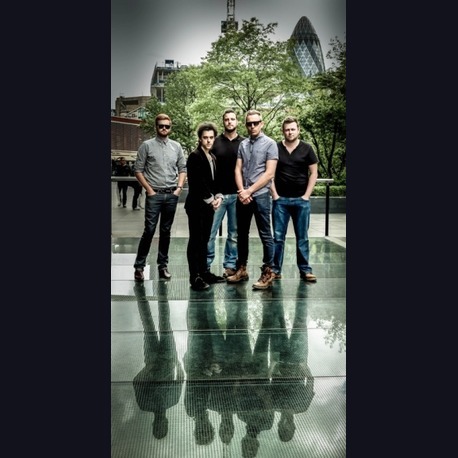 Superstition
I Predict A Riot
Play That Funky Music
Dirty Wafer are the ultimate Rock & Indie cover band for your special wedding, party, event, function or venue, and are renowned, not only, for their passionate, accomplished performances, but also for their professionalism and ability to make your event a memorable one.

Some artists Dirty Wafer cover; Coldplay, Stereophonics, David Grey, Red Hot Chili Peppers, The Strokes, Franz Ferdinand, The Killers, Snow Patrol, Jet, Keane, Razorlight, Kings of Leon, Keiser Chiefs, Rolling Stones, Beatles, Lynyrd Skynyrd, Jimi Hendrix, Eric Clapton, The Kinks, The Clash, Paul Weller, REM, The Police, Rod Stewart, U2

Dirty Wafer are five professional London session musicians who have performed for a number of very well known clients over the years.

Dirty Wafer perform for all types of events, not just large corporate clients. They have performed at numerous weddings, birthdays and other celebrations across the world, and know exactly what it takes to make each and every one of them special.

Dirty Wafer play completly live which is the only way to get that excitement and that vibe!! With a reputation that in some cases their renditions are most of the time better than the originals, you can be sure you know what you'll be getting when booking the band.

And for when the band aren't playing..

Dirty Wafer can also provide an acoustic which consists of the same setlist played on acoustic guitars and hotrods on drums, This is a great set is very popular with more intimate events with space issues. There is also the option of music between sets. Dirty Wafer use a laptop computer containing a huge amount of popular songs. These songs are mixed as they would be using CD decks, and a band member will control the laptop in between live performances, make basic announcements, and take requests from guests.

To appreciate the true Wafer Experience, you have to see the them Live. Outstanding musicianship, a great front man and more than enough great music to keep you on the dance floor.... longer!!!
Shortlist
---
Price Guide
For an approximate quote, please enter your postcode:
Song List
20th Century Boy T-rex
All Day & All Of The Night The Kinks
All Or Nothing The Kinks
All These Things Ive Done The Killers
Brown Eyed Girl Van Morrison
Buck Rogers Feeder
Changing Man Paul Weller
Chasing Cars Snow Patrol
Ciggerettes & Alcohol Oasis
Cocaine Eric Clapton
Come Together The Beatles
Day Tripper The Beatles
Disco 2000 Pulp
Empire - Kasabian
End Of A Century - Blur
Fairytale Of New York The Pouges
Fake Tales Of San Francisco - Arctic Monkeys
Gimmie Some Lovin Spencer Davis Group
Girls & Boys Blur
Go Your Own Way Fleetwood Mac
Hard To Beat Hard Fi
Hello Oasis
Heroes David Bowie
Hey Joe Jimi Hendrix
Hey Jude The Beetles
How To Save A Life - The Fray
Hush - Kula Shaker
I Predict A Riot Kaiser Chiefs
Importance Of Being Idle Oasis
In The Morning - Razorlight
Jean Gene David Bowie
Jenny Was A Friend Of Mine The Killers
Just For Tonight One Night Only
Just Looking Sterophonics
Last Night - The Strokes
Living For The Weekend Hard Fi
Mollys Chambers Kings Of Leon
Monster The Automatic
Moves Like Jagger Maroon 5
Mr Brightside The Killers
Mustang Sally Wilson Pickett
Naive The Kooks
One To Another The Charlatans
Otherside Red Hot Chilli Peppers
Play That Funky Music - Wild Cherry
Politk Coldpaly
Pounding Doves
Richard Iii Supergrass
Rock & Roll Star Oasis
Rocks Primal Scream
Seven Nation Army White Stripes
Sledgehammer Peter Gabriel
Soul Man Sam & Dave
Spread Your Love Like A Fever Black Rebel Motorcycle Club
Stir It Up The Rollin Stones
Stuck In The Middle Steelers Wheel
Superstition Stevie Wonder
Sweet Home Alambama Leonard Skinner
Take Me Out Franz Ferdinand
Teenage Kicks - The Undertones
This Is An Emergency The Pigeon Detectives
Time Is Running Out Muse
Valerie The Zutons
When You Were Young - The Killers
Where The Streets Have No Name U2
Wherever You Go The Calling
Whistle For The Choir Fratellis
Yellow Coldplay
You Do Something To Me - Paul Weller
And Many More!
Previous Clients
Lloyds Banking Group.
Hamilton Fraser Insurance.
Yacht Havens Group Ltd
British Armed Forces
Young Farmers Association
Eversheds Law
Bae Systems
Pioneer Window Corporation
Newmarket Racecourse
Oneils
Holiday Inn Group
Various British Army Bases In Germany.
Royal Burnham, Yacht Club, Essex
Colchester Garrison, Essex
Jockey Club, Newmarket Racecourse, Suffolk
Ocean Beach, Southend, Essex
Farnhams Hall, Hertfordshire
Helmingham Estate, Suffolk
Five Lakes Resort, Essex
Ickworth House, Suffolk
Channels Country Club, Chelmsford, Essex
Woburn Abbey, Bedfordshire
Royal Corinthian Yacht Club, Essex
Thames River Cruisers, London
Waterfront Place, Essex
Salmons, Tunbridge Wells, Kent
Otley Hall, Suffolk
Ivory Rooms, Billericay, Essex
Holiday Inn, Barnet, London
Cripps Farm Resort, Gloucestershire
Three Rivers Golf Resort, Essex
Pettistree House, Suffolk
Selsdon Park Hotel, Surrey
Mangaps Manor Country Estate, Essex
And Many More!
Testimonials
"Thanks to 'The Wafer' my 30th birthday at christmas was the event of the year. The whole band were so good and it looked like they were enjoying it as much as the guests were. Thanks so much, can't wait to see you guys again''
- James Sutcliffe, Hendon

"Our wedding reception went to a different level when Dirty Wafer started strutting their stuff!. You jugded the varied crowd so well with your placement of tunes throughout the night, there really was something for everyone. It was such a surprise for us when you had found out that 'our song' was Snow Patrols 'Chasing Cars' and played it for our first dance! It was a magical moment that i don't think that any of us will forget!!"
- Kurt & Rachel Walker, Colchester

''We normally get 'Run of the mill' groups in my pub, playing cheesy covers to a bored crowd, but the whole place was rocking last week when Dirty Wafer played here. I have you boys here everyweek if i could''
- Roger Lewis, The Kings Head, Chelmsford

''Dirty Wafer were fantastic, even after an 8 hour drive, no sleep, they were amazing. Evryone was on the dancefloor the whole evening. Thanks again guys!!''
- British Army Christmas Ball (Germany)

''I just want to say thankyou to Dirty Wafer, I really wish I'd booked them for the whole evening !! I can't say how impressed we were with your performance and Professionalism, it was truly fantastic!!
- Michelle, MGN, corporate (London)

''We have many bands here perform for weddings but none do it the way Dirty Wafer do. We're very, very happy to recommend Dirty Wafer to our clients who are looking to book a band for there big day!''
- Woburn Abbey, Bedford

We had a amazing wedding thanks to Dirty Wafer!!!Everybody loved them and I would recommend them to everyone I know!!! We didn't stop dancing!!!!!!
- Best Wishes, Helena
Set Formats
Dirty Wafer Offers:

2 x 60 Minute Sets
Or
3 x 45 Minute Sets

Line Up
Justin Archer - Vocals
Joe - Bass
Nick Jones - Guitar/Vocals
Stef Cole - Keys/Vocals
Robert Bishop - Drums