UK's No1 Solo Tribute To Il Divo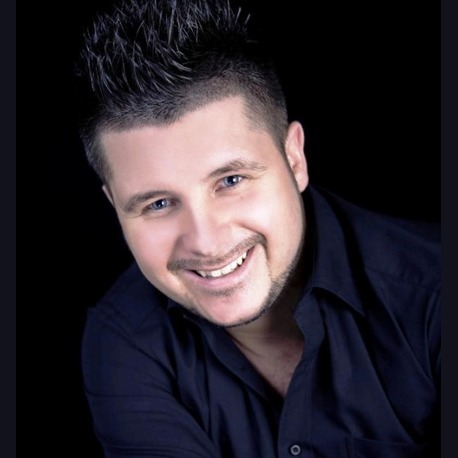 Bring Him Home
Nessun Dorma
Somewhere
Dean is a seasoned and experienced performer with one of the most versatile voices in the business and has been singing professionally since 1999.

He will entertain any audience young or old with his large repertoire covering songs from legendary artists including Elvis to Lady Gaga to The Stylistics to Pavarotti to Michael Buble to Meatloaf to Frankie Valli to The Black Eyed Peas, there is something for everyone from the 50's to present charts hits.

He also performs a Classical crossover/Musical theatre show including songs in Spanish/French/Latin and Italian as well as english. In which in 2012 saw him perform it all over the world.

His professionalism throughout his show is impeccable with stage dress changes each set with a bang up to date powerful sound system.

Dean can tailor his show last minute to suit any venue and audiences of all ages. He can perform self contained or with live backing with up to 8 piece arrangements. He has combined his warm personality, stage craft and vocal talent to become one of the UK's most popular artistes.
Shortlist
---
Price Guide
For an approximate quote, please enter your postcode:
Song List
Nella Fantasia - Il Divo
Somewhere - Il Divo
Love Changes Everything - Il Divo
My Prayer - Celine Dion & Il Divo
O Solo Mio - Il Divo
I Believe In You - Il Divo & Celine Dion
Nessun Dorma - Pavarotti/il Divo
All Coming Back To Me - Celine Dion
Heroe - Il Divo
Pia Jesu - Il Divo
All I Ask Of You - Phantom Of The Opera
This Is The Moment - Jekyll And Hyde
Ave Maria - Il Divo
Impossible Dream - Il Divo
That's Amore - Dean Martin
Phantom Of The Opera - Phantom Of The Opera
Bring Him Home - Les Miserables
You'll Never Walk Alone - Il Divo
I Believe - Il Divo
Music Of The Night - Il Divo
Funiculi Funicula - Mario Lanza/il Divo
Caruso - Il Divo
Time To Say Goodbye (con Te Partrio) - Il Divo
Mama - Il Divo
Chasing Cars - Opera Version
Vivo Per Lei - Il Divo
All By Myself - Il Divo & Celine Dion
Hallelujah (aleluya) - Il Divo
Musica (music Was My First Love) - Il Divo
Nights In White Satin - Il Divo
Notte De Luce - Il Divo
Por Ti Sere - Il Divo
A Mi Manera - Il Divo
And Many More!
Previous Clients
Thomson Holidays
Haven Holidays
Sensatori Resorts
G Casino
Park Resorts
Club Tropicana
Aston Hotels
Searles Holidays
Klienburn Productions
And Many More!
Testimonials
A brilliant singer, knows how to use his microphone. A definite rebook!
- Mapperley Plains Social - Nottingham

Absolutely excellent night, this guy works so hard on stage
- Glen Rogers, Owner Of The Wheel Swadlincote

Bloody brilliant, can we have you back New Years Eve?!
- John Binks, Chairman Of Embankment Club, Nottingham

We have some bloody good acts here but my god, this guy is special. Not one of the best but THE best act ever at our club
- Mick, Chairman Of The 102 Club, Derby

You have the voice, rather than singing the music from the shows, you should be IN them!
An amazing night, the best weve had for a long time
- Peggy Mann, The Glenfield Social, Leicester

One of the best acts weve had Ive never seen so many people dance!
- The Archers Club - Chapel St Leonards

Dean Alexander you are gonna go far You remind me of a young Joe Longthorne! Absolutely excellent
- The Silver Band Club - Corby

You are Brilliant Top of your game. Better than anyone on the television you would blow them all away. Cant wait to see you again
- Top Valley Social Club

Hi
Dean was fantastic, very versatile and professional. We would book him again, very talented.
Regards
Colin
Private House Party

Hi there

Thanks so much for organising Dean for our party, he was amazing and totally made our evening and party so special! Please pass our thanks on to him, I would highly recommend him, such an entertainer and talented singer was perfect.

Thanks so much.
Lynne Harper
60th Birthday Celebration

Good morning
Thank you so much for all your help with my booking

All I can say is WOW - Dean was FANTASTIC ....

My guests , after getting over the surprise of " Frankie Valli " being at the brunch we put on for everyone the day after our daughters wedding - they danced the afternoon away !

Amazing !

And such a lovely guy

Would not hesitate to use you again and obviously recommend to any one who asks me !

Many thanks and kind regards
Simone
Mother of the Bride

Dean was absolutely fabulous. Never seen as many people up dancing. It was a great night all round. Thank you so much.
Best wishes
Gill Dawson
Headingly Golf Club
Formats
Dean Alexander Offers:

1 x 60 Minute Set
Or
2 x 45 Minute Sets