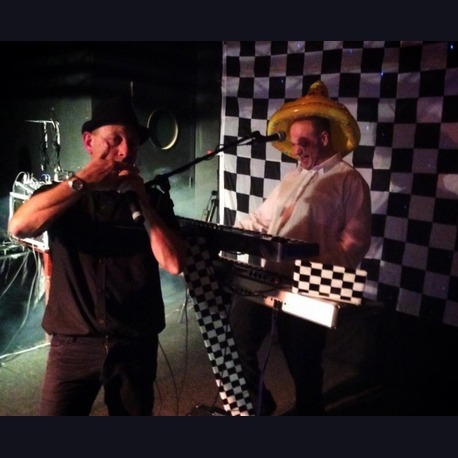 2 Much 2 Young
Wondering Now
It Must Be Love
2 Much 2 Young are an energetic two or three piece Ska Tribute from the west midlands With years of experience playing to live crowds.

Complete with live keyboards and two male vocalists, Lights and a 12ft Backdrop 2 Much 2 Young will perform an authentic Set of Ska classics hits from the last 40 years - Madness, Bad Manners, The Specials, Selector, Desmond Decker and a few new ideas from us will soon have the party in full swing.

We Can Perform 1 x 60 Minute Set or 2 x 45 Minute Sets with A Break and fill in the gaps with our CDs if needed.

And Its Guaranteed to fill the dance-floor !!!
Shortlist
---
Price Guide
For an approximate quote, please enter your postcode:
Song List
Intro
Too Much Too Young
My Girl Lollipop
My Girls Mad At Me
Enjoy Yourself
Stand By Me
Rudy
Isrealites
Ub40
Im A Believer
Madness Its Madness
House Of Fun
Wooly Bully
You're Wondering Now
Ghost Town
Anit No Sunshine
Oh Carol
It Must Be Love
Our House
Poison Ivy
Lip Up Fatty
Special Brew
Monkey Man
Baggy Trousers
One Step Beyond
My Girls Mad At Me
Enjoy Yourself
And Many More!
Previous Clients
Edgbaston Cricket Ground Birmingham
Jarvis Clayton Lodge Newcastle Under Lyme
Best Western Hotels Royal Derwent, Charnwood, Nottingah
Hilton Hotels Halifax, Norwich
Warwick & Leicester
Village Inn Nottingham, Coventry Dudley, Walsall & Leeds
Holiday Inn Leeds & Bradford
Westcliff Casino Southend
Michaels Showbar Kent
Caesers Nightclub Worcester
Oldham Carnival 2015 Oldham
Collingwood College Durham
Quality Hotel Norway
And Many More!
Testimonials
"The show was one of the best seen in Bahrain in a very long time. The guys were totally professional at all times and delivered not only an excellently put together show, but were also extremely entertaining. The entire audience participated in their show and their performance made the entire night very special and very memorable. Having booked many acts from the UK, The guys put in so much more effort and personality than any other performance I have seen. Their energy and enthusiasm far surpassed any expectations. I would highly recommend and would happily book them again here in Bahrain."
- Joanne Elkington
Operations Manager

Hi Guys, Well, not enough words to explain how great the boys were on the night. We had a major success at our club, and they even managed to get me up on stage to dance one of their routines!! Everything went smoothly, and their fun show and professionalism won over all our customers, whose feedback has been nothing but positive. My thanks to you for providing a very professional service, which made my job that much easier. Hope to be able to use your services again in the future. Many thanks.

Our students thoroughly enjoyed your Show, and we hope you enjoyed the night as much as everyone here did. We were over the moon you were able to appear at the ball for us and will happily recommend you in the near future to other colleges and companies etc for other events. Needless to say should we have an event of this kind again we will not hesitate to get in touch.
- Sarah Lisowiec (Durham University)
Set Formats
2 Much 2 Young Offers:

1 x 60 Minute Set
Or
2 x 45 Minute Sets