The U.K.'s Hottest Chili Peppers Tribute!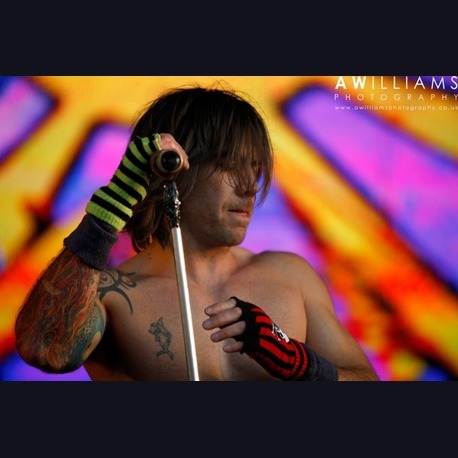 Californication
Fortune Faded
The Hot Red Chili Peppers believe that being a convincing tribute band is not just merely sounding and looking like the band you are tribute to, but it's more about capturing the spirit of that band and not many, if any, bands have such an uplifting, loving and fun filled vibe as The Red Hot Chili Peppers!

The Hot Red Chili Peppers have been together for 4 years, and along with nearly 100-000 plays on myspace and 20 odd thousand views on you tube, they have also played some of the biggest tribute band festivals in the u.k. Including this year's Glastonbudget and tribfest festivals, one of which saw them mentioned on Radio 1!!

Mic smith, who plays Anthony Keidis could actually get a job as his lookalike! The Hot Red Chili Peppers are also getting a reputation for being the only RCHP tribute to do the infamous sox on cox which they do as an encore every show! With some amazing feedback from punters and club owners alike, the only way is up for the HRCP! They have actually been told by a few die hard chili peppers fans that they are "better live than the real thing", but they are not so silly to let such talk go to their heads, mic always says a heartfelt thank you to the red hot chili peppers at each show, after all, if it wasn't for their great music we would not be here as a tribute band!!
Shortlist
---
Price Guide
For an approximate quote, please enter your postcode:
Set List
By The Way
Californication
Zephyr Song
Scar Tissue
Aeroplane
Give It Away
Knock Me Down
Suck My Kiss
Under The Bridge
Can't Stop
Fortune Faded
Dani California
Breaking The Girl
Snow (hey Oh)
Universally Speaking
Parallel Universe
Otherside
Hump De Bump
Could've Lied
Higher Ground
Good Time Boys
Around The World
The Greeting Song
Right On Time
Venice Queen
Tell Me Baby
Road Trippin,
Power Of Equality
Monarchy Of Roses
Raindance Maggie
So Much I
Readymade
Previous Clients
Glastonbudget
Tribfest
Somerrock Festival
Maryport Fakestival
Picturedrome
Roadhouse
Horn
The Horns
Cambridge University
Ruby Lounge
Robin 2
The Beat Bar
Brookers Rock Bar
The Krazyhouse
The Nines
Golden Cross
Knights Quest
Bridgnorth Rugby Club
Stellhouse Festival
Testimonials
You guys rocked this year at glastonbudget, Im a massive chili peppers fan, seen them on many occasions.... and I found it hard to tell the difference!!
- Nick Tanner, Festival organiser- main stage

"top tribute guys, excellent performance at this years glastonbudget!!" Gavin Felvus, Guns 2 Roses
- UK's premier tribute to Guns & Roses

"The best chili peppers tribute I have seen in 10 years on the circuit!"
- Joe Mills- Green Date, One of the countries best tributes to green day

"It was awesome guys, well done! I have seen some tribute bands in my time.....but you guys Rock!!! You are look-a-likes and sound-a-likes and the music was so tight. look forward to seeing you again soon"
- John lazic, manager; the oak, sankeys cnr, burntwood

"I have seen the red hot chili peppers and am a big fan, but u know what?, these guys are better than the real thing!"
- Jason. Manager at the rising sun, Coventry

"Close your eyes and u wouldn't have a Danny la rue....these guys r awesome!!!"
- Paul Brindley, manager of the bullit bar, Tamworth

"What a surprise for my daughter on her 16th birthday, you guys were fantastic and you made my neha's birthday very special, she loves the signed poster, a big big thank you!!"
- Anil Pachnanda
Set Format
Hot Red Chili Peppers Offer:

1 x 1 hour 30 minutes set (inc 20 min encore)
Or
2 x 45 minute set