Solo Or Full Band Rod Stewart Tribute Show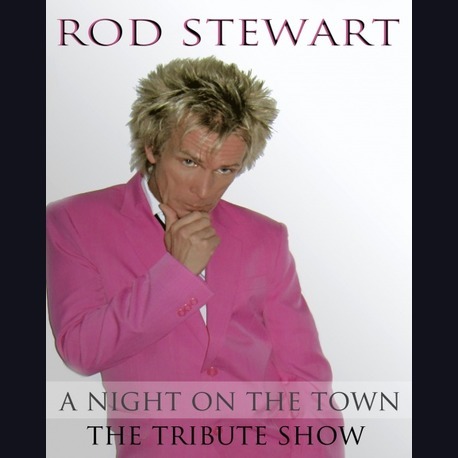 I Don't Want To Talk About It
The Killing Of Georgie
You Wear It Well
Dave Springfield presents a tribute to a true legend.

A Night On The Town incorporates everything you expect to see and hear at a genuine Rod Stewart concert.

Featuring all the hits from an incredible career spanning 5 decades, Dave performs with the same passion and energy as Rod himself from the moment he takes to the stage.

The voice is gravel, the moves textbook Stewart, the white mic stand flies around the stage, there are costume changes and the hair is real..... No wigs here folks!!!!

One of the most integral parts of the show is audience participation and every member of the crowd is encouraged from the first minute to the last to sing along, clap their hands, sway their arms and strut their stuff on the dance floor.

A Night On The Town is a must see show for Rod Stewart fanatics and music lovers of all ages.

Suitable for any occasion and venue.

Book it now for the ultimate Rod Stewart experience!
Shortlist
---
Price Guide
For an approximate quote, please enter your postcode:
Song List
Maggie May
Sailing
Baby Jane
You Wear It Well
Rhythm Of My Heart
Do Ya Think I'm Sexy
First Cut Is The Deepest
I Don't Wanna Talk About It
Hot Legs
Young Turks
The Killing Of Georgie
Tonight's The Night
This Old Heart Of Mine
The Motown Song
Reason To Believe
Handbags & Gladrags
I Was Only Joking
Forever Young
Stay With Me
Cindy Incidentally
And Many More!
Previous Clients
Opera House Casino, Scarborough
Village Hotels Uk
Marine Club & Resort, Dubai
Countess Of Evesham
Thornaby Sports And Leisure Club
The Bear And Swan
The Hollybush Pubheston Catholic Social Club
North Allerton Working Men's Club
Highwoods Golf Club
Rochdale Golf Club
Hamworthy Labour Club
Alexanders Restaurant
Chislehurst Sports Club
Monmouth Golf Club
The Westleigh Bar
Shanklin Hotel
Twyssenden Manor
Marriott Uk
Doncaster Golf Club
Southview Hotel, Skegness
Various Bars/restaurants Corfu
Aviation Club, Dubai
Stat Oil, Norway
Yorkshire Television
And Many More!
Testimonials
Just to let you know that Dave Springfield was voted by a packed hall at Hamworthy Labour Club as the best tribute artist we have ever had. Perhaps
you can pass this on to him. Regards
- Colin Ray, Club Chairman, Hamworthy Labour Club

Dave was absolutely brilliant - he turned up in plenty of time, set up with no fuss and worked his socks off! I would not hesitate to recommend him to anyone. Thanks for all your help
- Greeta, Epsom Golf Club

The night went extremely well. Dave Springfield is a great showman and an excellent entertainer. Highly recommended and I will be using your agency again. Many thanks
- Kavon Mowlavi, Heston Catholic Social Club

Very good night thank you, Dave was excellent
- Michael Josephs, North Allerton Working Men's Club

Hi We understand that Dave was a great success and enjoyed by all the 100 plus members who came along. Thank you very much indeed
- Michelle, Highwoods Golf Club

Hi, Dave was punctual, professional and articulate. He put on a lively performance to a high level of detail. Music and play list was great and he played the audience well. All guest feedback was excellent. Pass on our Thanks. Regards,
- Phil, Rochdale Golf Club

Hi all went very well last night Dave was very good we thoroughly enjoyed his entertainment and would certainly recommend him to our friends, Thanks.
- Sue higgins

Many thanks to all at Scott Jordan. Once again a fantastic performer in Dave Springfield as Rod Stewart. Professional and charismatic had the crowd swaying and clapping from the first song ..from Rod's early Faces stuff to the latest he even took requests Dave really excels! Fantastic stuff
Please pass on regards from
- Steve and Staff at The Westleigh

Hi Everyone at Scott Jordan, I would love to leave some feedback and leave a testimonial for Dave Springfield. First of all Scott Jordan has been very helpfull, efficiant and offerred a really good professional service which when you are organizing a big party, is greatly appreciated. As far as Dave Springfield is concerned I can not praise hime enough, what a lovely guy. He was kind enough to let us use his PA for other acts and music which meant he had to arrive hours before he had to play, and show me how to use his set up. This made the running of the party a lot easier for me. And when it came to his performance, he was brilliant, Sounded great, looked great and really got everyone in a party mood. He really made the party special and we can not thank him enough. Thanks for all your help
- Mark

Good Morning
Just wanted to give a testimonial for Dave Springfield.

Thank you so much for an incredible evening, the theatre was rocking from the minute he walked on stage, his energy and entertainment value kept us hooked all evening and everyone shouting for more. He was Rod Stewart. A thoroughly nice, and extremely talented man whom I would have no hesitation in booking again

And thanks also to your company for providing such first class acts and your patience with the emails and queries is amazing. I really appreciate it, being here in the Isle of Man that you are so contactable.
Kindest regards
Lindsay Quayle
Breast Cancer Charity
Set Formats
Dave Springfield Offers:

1 x 60 Minute Set
Or
2 x 45 Minute Sets

Covers the whole of the UK. Available for abroad contracts & cruisework.