Solo Freddie Mercury Tribute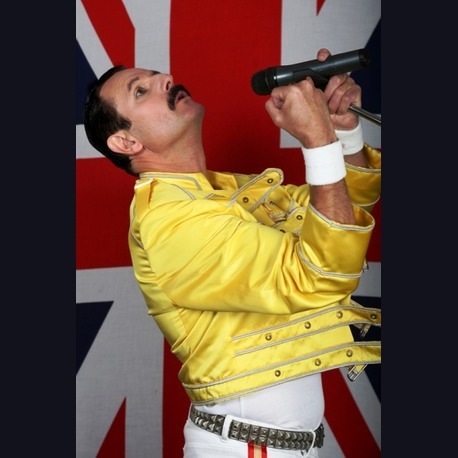 We Will Rock You
Radio Ga Ga
I Want To Break Free
Billy West is now regarded as Europes No. 1 Freddie Mercury Impersonator. Absolutely unrivalled, Billy West's tribute to the frontman of the world's greatest rock band is sure please even the most discerning audience.

Recreating the persona of Freddie with pinpoint accuracy, this electrifying tribute show is not to be missed!

The brilliant vocals and commanding stage presence together with his unique sense of theatricality has resulted in a superb visual act, sensational music and a high energy show full of power and passion.

For first class, unmissable entertainment resulting in an evening of fun and cabaret there can only be one tribute artist that delivers such an unforgettable performance and that is Billy West as Freddie Mercury.

Billy has an amazingly high and powerful voice and prides himself in the fact that every song is delivered in the copy key. Virtually all of Queens and Freddies solo hits are performed magnificently in a show that cannot be equalled anywhere. He is the consummate entertainer that always gets his audience totally involved.

The Costumes are made as near to the originals as possible and together with the natural appearance and movements of Freddie, Billy Wests tribute ensures you will revel in a unique, exciting and thrilling interpretation of this renowned showman.

This phenomenal production is accompanied by a light show, state of the art P.A. and a dramatic backdrop ensuring a completely professional rendition.

During his performances the actions and movements have been practiced, rehearsed and perfected with costumes professionally made right down to the smallest detail making the whole experience extremely authentic.

Additionally a disco is available featuring either music from the 50's to the charts or a 'classic rock' disco.

Billy's repertoire includes 25 of Queen and Freddie Mercury's hits.
Shortlist
---
Price Guide
For an approximate quote, please enter your postcode:
Song List
Radio Ga Ga
We Are The Champions
Bohemian Rhapsody
Somebody To Love
Who Wants To Live Forever
Its A Kind Of Magic
The Show Must Go On
These Are The Days Of Our Lives
I Want To Break Free
Living On My Own
And Many More!
Previous Clients
Ramada
Holiday Inn
Courtyard
Hilton Hotels
Personal Appearance At Royal Albert Hall
Retra Conference In Portugal
Guest Appearance At Rhodes Hilton
Various Pubs, Clubs, Holiday Camps And Open Air Festivals
Billy Also Supports The Following Charities - Capability Scotland, Cancer Research, British Heart Foundation And Ms Society
And Many More!
Testimonials
"Billy raised over 800 for our charity night There is only one Freddie Mercury and Billy West reincarnates him what a show what a fantastic night"
- Anna Walker - Borders multiple sclerosis society

"We needed a night to remember and Billy West certainly put on a first class show great entertainment and true professionalism from a fantastic artiste"
- Balmoral Hotel Edinburgh - Annual Law Society Ball

"Billy West has performed at a few of our hotels. He puts on a fantastic show and our guests are always well entertained and pleased"
- Manager - Marriot Hotel Group

"We have used Billy a few times he always puts on a great show. His performance as Freddie Mercury is nothing short of outstanding"
- Manager - Hilton Hotel Group

"We had Billy perform for us and what an incredible show. Billy looks like Freddie without his costumes so when he came on stage we really thought it was Freddie Mercury."
- Scottish Gas Managers Party - Heriot Watt University

"Billy performed for us at our excellence awards ceremony. What a fantastic night we hold these awards regularly and billy was by far the best artist we have had what a voice and what a performer"
- Ruth Allen - Scottish executive

"Billy has played at the Tavern for the past 4 years. He always does our local herring queen festival and year after year it just gets better and busier."
- Douglas Stewart - The Tavern Bar Eyemouth

"Billy performed at our club and we all thoroughly enjoyed his show we had a great night mainly down to billys fantastic performance as freddie mercury"
- gloria dunn - dagenham and redbridge FC

"we booked billy to perform for my fathers 60th birthday we were told how much he looked like freddie but his resemblance was fantastic we all enjoyed the show my father in particular big freddie fan he literally took his breath away "
- lucy stewart - surprise 60th party port knockie

"billy has done a charity night for us for the past 6 years he puts on a great show and we always raise money and awareness for our event he is the best freddie mercury I have seen and he is very good "
- fiona mackie - capability scotland

"billy was a guest at the hotel we found out he was a professional tribute artist and asked him if he would sing for us even though he was on holiday he still sang for our guests and everyone enjoyed him and wanted him to sing again he did us a great honour "
- entertainment team - rhodes hilton

"Billy did a show for us this year in portugal we have an annual conference every year and this time we had billy as freddie mercury everyone enjoyed his performance including the fact he looks so like freddie"
- mike floodgate chief executive - RETRA

"Billy performed at our wedding reception and having seen billy twice before i knew he would be great his overall performance of freddie mercury is nothing short of exceptional all our guests had a great time and we had a wonderful day "
- vince & annie green - westfield club newcastle

"Billy did a show for us at our cricket club it was a fantastic night we sold all the tickets before they were printed he is the ultimate freddie mercury impersonator he had the audience on their feet and shouting for more "
- ian smith - billingham symphonia cricket club

"What a fantastic night everyone thoroughly enjoyed the show and billy west as freddie mercury leaves no doubt that he is the one and only freddie mercury tribute he is the best"
- bob stephenson - leadgate social club

"We picked the right choice with billy west he is a fantastic artiste with a great voice everyone thoroughly enjoyed the show and he had the audience in the palm of his hand what a professional"
- mike timms - Blaby Royal British Legion Leicester

"Billy played at our wedding and all the guests had a great time he is a fantastic freddie and his performance was great we will certainly recommend him"
- Ian and Nicola holt - Norton Grange Hotel

"Billy was absolutely fabulous he is the reincarnation of the great man freddie mercury everyone loved him and my party went with a big bang he is a lovely genuine guy and we loved him to bits thanks billy"
- Bee and Adam Barnhill - 50th birthday Party

"Billy did a charity show for us to help raise money for our summer show the night was a great success and everyone was buzzing about it at our rehearsals he was fantastic"
- Martin Farrance - Coatham & Dormanstown Treasurer

"Billy did 2 nights for us on Herm Island He was fantastic as freddie and really got our audience fully participated he is so like freddie it is unbelievable and so professional we all enjoyed the show"
- Sion Jones - Herm Island Guernsey

"Billy did 2 shows for us he was very professional and our audience loved the show he made sure they all fully participated a great night was had by all"
- sylvia ingham - la manga spain

"Billy did a show for us in frankfurt it was our annual trade show he was very good and we asked him to perform a few more songs as our audience really enjoyed themselves "
- Joanna Rice - Tokheim Ltd

"Billy performed for my husband and he was amazing really talented totally professional and a really nice guy we all had a great evening what a fantastic show "
- susie keenan - 30th birthday party

"Billy performed for my 40th what a fantastic evening all my guests enjoyed the show and I sang radio ga ga as a special surprise for my friends thanks for a great evening billy "
- mark urquhart - 40th birthday edinburgh castle

"Billy performed at my 40th birthday what a great night all my friends really enjoyed the show and he made my 40th a night to remember will recommend him to others "
- Marina Robinson
Set Formats
Billy West Offers:

1 x 60 Minute Set
Or
2 x 40 Minute Sets

Equipment:

2 sets of cabaret lights, 2 x new RCF speakers, a dramatic backdrop with act name and his own desk to do his mixing and sound.